The Best Reason To Cook With Your Kids Is So They Can Eventually Cook For You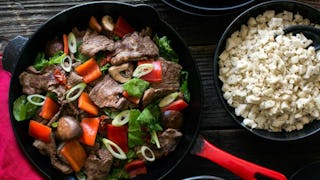 Sun Basket
I'm not a skilled cook. I'm a 100% average but competent cook who can usually refrain from burning dinner 95% of the time (those perogies don't count, honest, I just forgot to turn the stove off, okay?). I could, with more practice, probably become a pretty good cook. But here's the thing: I don't want to.
In fact, if I had a choice, I'd hire a personal chef and never cook again. I love fresh, healthy gourmet food and having someone else cook just what I want sounds dreamy. Sadly, I'm cursed with having gourmet taste buds without any accompanying mad chef skills. So I've muddled along, cooking mostly organic food adequately. Until I discovered Sun Basket.
Why I Started Using A Meal Kit
The only thing I dislike even more than cooking is grocery shopping. And I particularly dislike having to buy expensive, fancy ingredients I'm only going to use once! I have a jar of capers still haunting my fridge today thanks to a pasta recipe my whole family hated back in 2013. So I started getting Sun Basket meal kits delivered to my door because it gives me a chance at something fancier to eat without having to buy special products (each box includes pre-portioned organic and sustainable ingredients along with delicious recipes). It was a complete godsend, and I have become a whole lot more enthusiastic about cooking—and eating what I cooked!
A Box With Magical Powers
Best of all? Once the first box was delivered from Sun Basket, I made a discovery: my kid suddenly wanted to cook too. Like most kids, my kid is practically Pavlovian in her response to boxes being delivered to our house, so a box of food to cook full of delicious recipes and ingredients caused her to suddenly become fascinated with helping out in the kitchen.
The Indoctrination Begins
So I started her out simply by washing and chopping the vegetables. It was astonishingly fun, and I've found myself having a blast cooking with her. We have long talks as things are stirred, and I have found myself sharing memories of cooking with my mom and grandmother with her as well. Those moments are so sweet, I really cherish them. My husband is pleased with the cooking, although he'd probably prefer we stop listening to Hamilton while singing along at top volume while we're cooking (at least he loves the food).
And Then The Skies Opened And Angels Sang And I Sat The Heck Down
I've finally been kicked out of the kitchen. She's taken over the Sun Basket cooking entirely, so basically my lifelong dream of having a personal chef has come true. Once a week or so she'll let me be her assistant, but I'll confess I'm just as happy to let her cook and read a book (or, in truth, play more Gummy Drop on my phone) while she's in there.
Although now I have a new job title: dishwasher. It's exactly about as fun as it sounds. So I'd better have another kid so I can give up this job too.
Sun Basket makes dinnertime family time. Get weekly organic & sustainable ingredients and delicious, easy recipes that will get kids to enjoy eating vegetables (no, really!).
BBQ pulled chicken sliders with peach-feta salad and cabbage slaw
Instructions
1. Cook the chicken
Pat the chicken dry with a paper towel; season generously with salt and pepper. In a large frying pan over medium-high heat, warm 2 tablespoons oil until hot but not smoking. Add the chicken and cook, turning once, until lightly browned and cooked through, 3 to 5 minutes per side. Transfer to a medium bowl to cool. Wipe out the pan. When the chicken has cooled, using a fork, shred the chicken and toss with half the BBQ sauce; season to taste with salt and pepper. Set aside the remaining BBQ sauce for serving. While the chicken cooks and cools, prepare the cabbage slaw.
2. Make the cabbage slaw
Cut away any core from the cabbage; thinly slice the cabbage. Coarsely chop the cilantro. If using the jalapeño, remove the stem, ribs, and seeds; cut the jalapeño crosswise into thin half-moons. Wash your hands after handling. In a medium bowl, stir together the slaw dressing base and 2 tablespoons oil. Add the cabbage, cilantro, celery seeds, and as much jalapeño as you like and toss to combine. Season to taste with salt and pepper. Let stand while you prepare the peach-feta salad and toast the buns.
3. Make the peach-feta salad
Cut the peaches in half and remove the pits; cut the fruit into ½-inch pieces. Strip the mint leaves from the stems; coarsely tear the leaves. In a large bowl, stir together the peaches, mint, feta, pumpkin seeds, and 1 to 2 teaspoons oil. Season to taste with salt and pepper.
4. Toast the buns; assemble the sliders
Cut the buns in half. In the same pan used for the chicken, working in batches if needed, add the buns, cut sides down, and cook over medium-high heat until toasted, 1 to 2 minutes. Place the bun bottoms, cut sides up, on a work surface. Top with the chicken and cabbage slaw. Close with the bun tops.
5. Serve
Transfer the sliders to individual plates. Serve the peach-feta salad and any remaining cabbage slaw and BBQ sauce on the side.
Kids Can!
Stir together the cabbage slaw. Remove the peach pits. Strip and tear the mint leaves. Stir together the peach-feta salad. Serve the meal.
This article was originally published on