10 Of The Coolest Gifts To Get For Your Cool Grandparents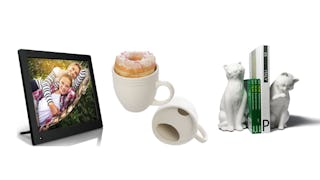 Images via Walmart
If your Grandma is like Betty White, then you already know what it's like to have a cool grandparent. Even if you're grandparents aren't quite on par with Betty, they may still be the coolest old people you know. Here are 10 gifts that are just as cool as they are.
Because who doesn't want to know more about their heritage, where they came from, and their family tree?
Drop them new photos from anywhere, and this frame will update!
You can set it to large print, so they can read the subtitles on Game of Thrones.
We're not even sorry — these are ah-mazing. Or should we say purrr-fect?
If you're not going to buy these for your grandparents, then please buy them for ours, because OMG THESE MUGS ARE FREAKING AWESOME!
Because grandparents and cookies go hand in hand.
They probably make an essential oil for arthritis, and something her Bunco girls like too.
If you are old enough to be a grandparent, you shouldn't have to manually vacuum your floor anymore. Put your feet up and let this robot do it, like the Jetsons.
Your favorite grandparents can tell people to get off their lawn without ever leaving the recliner.
Because coffee is life, no matter how old or cool you are.
The coolest grandparents deserve the coolest gifts. And don't forget to tell them just how awesome they are too–grandparents love that stuff.
We are a participant in the Walmart.com Affiliate Program and may earn fees by linking to Walmart.com and affiliated sites.
This article was originally published on