Linda Evangelista Is Suffering From Paradoxical Adipose Hyperplasia––What Does This Mean?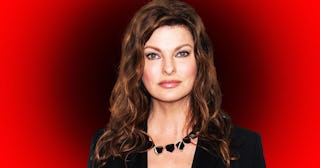 Scary Mommy and Gilbert Carrasquillo/Getty
In an Instagram post on September 22, Linda Evangelista, one of the top supermodels from the 1990s, revealed that she's been suffering from a rare side effect of CoolSculpting. She said she's become "unrecognizable" and "permanently deformed" despite undergoing "two painful, unsuccessful, corrective surgeries."
She wrote: "To my followers who have wondered why I have not been working while my peers' careers have been thriving, the reason is that I was brutally disfigured by Zeltiq's CoolSculpting procedure which did the opposite of what it promised."
According to a lawsuit Evangelista filed against the company, a few months after she had treatments to her abdomen, back and bra area, inner thighs, flanks, and chin, she developed "hard, bulging, painful masses under her skin in those areas. " She was diagnosed with PAH in June 2016.
Despite the fact that more than 8 million people in the United States have undergone CoolSculpting as of 2019, according to the CoolSculpting website, most of us don't know much about CoolSculpting—how it works or what happens when, as in Evangelista's case, it does the opposite of what it should.
What Is It And What Does It Promise?
CoolSculpting is essentially what it sounds like. Through a process called cryolipolysis, cold temperatures are used to break down fat cells. Each treatment takes about an hour and the number of treatments depends on the body part being targeted. A few weeks after treatment, the frozen fat cells are eliminated from the body through the liver. According to Daniel Maman, a board-certified plastic surgeon based in New York, "The cells actually die and are ingested by the body."
Most people notice full results within three months.
In 2009, researchers found that cryolipolysis resulted in "substantial fat reduction within 2 months of treatment," and reduced fat in the treated area by 25 percent after six months. Dr. Whitney Bowe, a New York City-based dermatologist, told the New York Times that patients frequently undergo more than one treatment to the same area in order to reduce fat by up to 50 percent.
CoolSculpting isn't meant for weight loss. Instead, it's "meant for stubborn pockets of fat that are nonresponsive to diet and exercise in patients who are at their ideal body weight," according to Dr. Paul M. Friedman, a dermatologist in Houston and the director of the Dermatology & Laser Surgery Center CoolSculpting.
CoolSculpting is FDA approved, noninvasive, and nonsurgical. It's not covered by health insurance and usually costs between $600 to $3,000, according to Dr. Bowe.
When CoolSculpting Goes Wrong
Patients can experience a variety of side effects immediately after treatment or one to two weeks later. Those side effects include redness, bruising, tingling, stinging, and numbness, which can persist for a few weeks post procedure. More rare side effects include hernia, dizziness, hyperpigmentation, frostbite, or late-onset pain that can last for weeks.
The side effect Evangelista experienced is called Paradoxical hyperplasia (PAH). It's the "gradual development of a visibly enlarged tissue volume, of varying size and shape, in the treatment area two to five months after the treatment." Rather than shrink, the targeted area actually gets bigger. The company notes that it will not go away on its own and surgical intervention, like liposuction, is required for correction.
Unfortunately, surgery isn't guaranteed to correct the issue, which is Evangelista's experience. She underwent full body liposuctions. They were not only unsuccessful, but left her with scarring.
According to the company that licenses CoolSculpting, Zeltiq, PAH happens in one out of every 4,000 treatments. However, the actual risk to patients seems to be much higher. A recent study found that PAH occurs in one out of every 666 patients.
In her lawsuit, Evangelista claims that she was not made aware of the risk of PAH. She wrote, "PAH has not only destroyed my livelihood, it has sent me into a cycle of deep depression, profound sadness, and the lowest depths of self-loathing."
Troy Pittman, a board-certified Washington, D.C.-based plastic surgeon, told the Seattle Times that he's observed PAH in his practice "several times." When it comes to CoolSculpting, he urges folks to remember that, "Just because it says 'noninvasive' doesn't mean it's without risk," and adds, "I think sometimes if it seems too good to be true, it is."
Whatever you think of celebrities getting procedures done to make them look a certain way (thereby perpetuating impossible beauty standards), it's important to keep in mind that celebrities are human. They are subject to insecurities and societal pressures. They are as entitled as anyone to make a choice for their own body. Going into a procedure expecting one outcome and then experiencing the exact opposite outcome is devastating. Pittman go as far as calling it "psychologically disturbing."
In her post, Evangelista wrote that she's "so tired of living this way." She wrote: "I would like to walk out my door with my head held high, despite not looking like myself any longer."
Evangelista hopes by speaking out she's taking the first steps toward making that happen.
It's a hope we can all support.