Coors Just Became The Official Beer Of 'Being Done With Your Bra'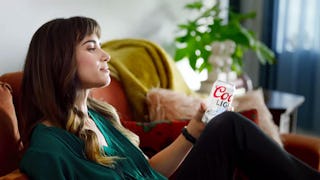 Coors Light/Youtube
Coors has a new beer commercial that's all about a woman's favorite time of day
Any woman knows the best — and we mean absolute best — part of the day is taking off her bra. It's synonymous with freedom and comfort with a side of "I don't give a heck" thrown in for good measure. It's a glorious time of day, so much so that Coors Light decided it deserved its own video as a part of their "Made to Chill" campaign.
The new online-only ad features a woman getting home, kicking off her heels (bandaid covering blister on proud display), and searching in her fridge past the takeout container and bottle of wine to a nice, cold Coors Light. The only thing that could make the moment any better is — you guessed it — ditching your bra.
The on-screen text announces that Coors Light is "the official beer of being done wearing a bra," and we are officially here for it. It's time we celebrated the glory that is walking around braless, no confines and uncomfortable straps or clips digging into our skin. It's time to air those baby girls out and let gravity take them where it may. For a beer company to be the first to recognize the power behind it is surprising, and a bit refreshing.
Men are the typical demographic for beer ads. Not to say boobs aren't showing up in those as well but they're usually for a sexy visual versus an "omg please for the love get this bra off me" type of message. It's always seemed odd because most women I know drink beer. The target audience is there, and it seems Coors Light is finally paying attention.
Of course, the brew company has several other "chill" videos as a part of their campaign with men in mind (though I also know many women who bring shower beers with them), including "The Official Beer of Going Golfing Just to Drink Beer" and "The Official Beer of Drinking in the Shower." None of the ads are longer than 15 seconds, because that's all you really need to crack open a cold one.
"We certainly had conversations about [the ad] because it is so different: Not only is it a female-led spot but she's having a moment alone. We thought it was most important to recognize real moments, what people are actually doing," Coors Light marketing manager Chelsea Parker told The Takeout. "Millennials are now being called the burnout generation. They're always on, either on social media or out socially or watching the 24-hour news cycle. So they're concentrating on turning things off. 'Made to Chill' is about the need to tune things out, to hit the reset button."
It doesn't take a lot to make a woman happy and letting the girls out and about after a long day of being cooped up is one of the simplest ways. Good on you for recognizing that, Coors Light.