BLM Activist Cori Bush Wins In Missouri And A Spot On 'The Squad'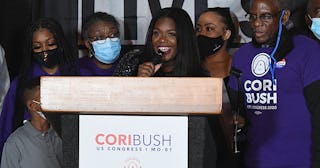 Michael B. Thomas/Getty
Cori Bush beat a 10-term incumbent to become Missouri's first Black congresswoman
Cori Bush, a progressive Democrat, and prominent activist in the racial justice movement, officially won a House seat in Missouri, which makes her the state's first Black congresswoman. She defeated Republican newcomer Anthony Rogers by a 79% to 19% margin after defeating a 10-term Democratic incumbent, Lacy Clay, back in August. And she's about to become the newest member of "The Squad," as all four OG members were re-elected last night.
Bush will represent Missouri's 1st congressional district, which covers St. Louis and Ferguson among many other areas. She ran on a progressive platform, championing Medicare-For-All and the Green New Deal and other progressive policies.
"As the first Black woman and also the first nurse and single mother to have the honor to represent Missouri in the United States Congress, let me say this," Bush said during her victory speech. "To the Black women, the Black girls, the nurses, the essential workers, the single mothers: This is our moment."
As the election approached, many people across the country hoped Bush would win her election and join fellow progressives as a member of "The Squad," the group of progressive lawmakers elected as freshmen in 2018 that includes Rep. Alexandria Ocasio-Cortez, Rep. Rashida Tlaib, Rep. Ilhan Omar and Rep. Ayanna Pressley.
Bush herself set some Squad Goals this week:
In her career, she's been a nurse and a pastor, but Bush also became an organizer and protest leader after the shooting death of Michael Brown in Ferguson in 2014. She's also spoken openly on the campaign trail about her struggle with paying taxes and staying on top of bills as a single mom, as well as facing homelessness and domestic violence throughout her life.
"She represents such an important movement that is now just starting to get an expanded foothold into the United States Congress," Ocasio-Cortez told GMA of Bush earlier this year. "To me, she just represents a fidelity to everyday people over profit and over the influence of corporate lobbyists that we so badly need, and she's just an incredible human being and I think it's so important that we're having her here in Congress."
This was Bush's third run for Congress — she previously ran for a seat in the Senate and lost in 2016, and again for a seat in the House in 2018.
"To all the counted outs, the forgotten abouts, the marginalized, and the pushed asides. This is our moment," Bush wrote on Twitter. "We came together to end a 52-year family dynasty. That's how we build the political revolution."