First U.S. Coronavirus Patient Dies in Washington State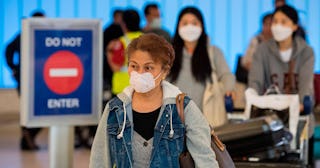 MARK RALSTON/AFP via Getty Images
A man in his 50s in Washington state has passed away after contracting coronavirus
Despite the fact that President Trump called the coronavirus a "new hoax" cooked up by the liberal media on Friday night, the first U.S. person with the virus has died. As the CDC is alerting citizens to prepare for a coronavirus outbreak stateside, a spokeswoman for EvergreenHealth confirmed (via The New York Times) that a coronavirus patient in Kirkland, Washington has died — the first for the U.S.
During a press conference on Saturday, February 29, 2020, Trump referred to the deceased as a "wonderful woman" though it was later clarified that the patient was a man in his '50s. Apparently, Trump was given incorrect information. USA Today reports that the man had "underlying health problems," and as there is currently no cure for the virus, the best defense for coronavirus is a strong immune system.
Additionally, two people at the Life Care health facility (a nursing facility) also in Kirkland were diagnosed with the virus and more than 50 other individuals at the facility have reported symptoms. For this reason, Washington governor Jay Inslee has declared a state of emergency.
"It is a sad day in our state as we learn that a Washingtonian has died from COVID-19," Governor Inslee said in a statement. "Our hearts go out to their family and friends. We will continue to work toward a day where no one dies from this virus."
Inslee added that Washington is "strengthening our preparedness and response efforts. I am committed to keeping Washingtonians healthy, safe and informed."
Despite Trump's constant efforts to downplay the seriousness of coronavirus, the Trump administration has issued "do not travel" warnings to areas of Italy and South Korea most affected by the virus and has barred all travel to and from Iran.
Coronavirus is a novel virus, which partly explains the confusion and rush to go out and buy surgical masks. However, Surgeon General, Jerome M. Adams, asked that people stop buying masks as it's hurting more than helping.
"Seriously people — STOP BUYING MASKS!" Adams tweeted. "They are NOT effective in preventing general public from catching #Coronavirus, but if health care providers can't get them to care for sick patients, it puts them and our communities at risk!"
So how do you protect yourself? Wash your hands with soap and water, use hand sanitizer with alcohol, and stay home if you are sick.