Coronavirus RNA Found In Princess Cruise Ship Cabins 17 Days After Passengers Left
by Julie Scagell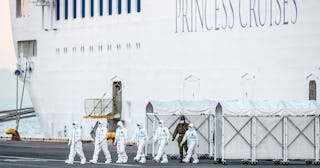 Carl Court/Getty
The study looked at 2 Carnival-owned ships
Coronavirus RNA survived for up to 17 days aboard the Diamond Princess cruise ship, according to new data published by the Centers for Disease Control and Prevention, living much longer on surfaces than scientists originally thought.
The study, released Monday, examined the Carnival-owned Diamond Princess ship in Japan and the Grand Princess cruise ship in California, where passengers and crew were quarantined after guests tested positive for COVID-19 after landing ashore.
"COVID-19 on cruise ships poses a risk for rapid spread of disease, causing outbreaks in a vulnerable population, and aggressive efforts are required to contain spread," the CDC wrote, urging the immune-compromised and elderly to stay away from cruise ships. "Transmission occurred across multiple voyages from ship to ship by crew members; both crew members and passengers were affected; 10 deaths associated with cruise ships have been reported to date."
Researchers who studied the docked ships determined that there were still traces of SARS-CoV-2 RNA present inside passenger cabins 17 days after the 3,711 passengers and crew were removed. They also found that 712 of 3,711 people on board the Diamond Princess (almost 20%) were infected by COVID-19. The ship quickly became the largest confirmed COVID-19 cluster outside of China at the time.
"Although [this] data cannot be used to determine whether transmission occurred from contaminated surfaces, further study of fomite transmission of SARS-CoV-2 aboard cruise ships is warranted," the report said. The cabins had yet to be disinfected when this study occurred.
They also noted that as of March 17, there were at least 25 cruise ship voyages with confirmed COVID-19 cases that were detected either during or after the cruise ended. An estimated 30 million passengers are transported on 272 cruise ships worldwide each year.
A separate study on RNA examined respiratory samples from nearly 200 patients, including 54 who died from the disease and detected COVID-19 RNA (ribonucleic acid) in respiratory samples from survivors after a median of 20 days after they first contracted it. The longest duration of "viral shedding," the process in which the virus leaves the cells, was 37 days.
Between Feb. 3 and March 13, the U.S. confirmed around 200 cases of COVID-19 from returned cruise travelers. At least 15 states have reported cases associated with cruise travel to the CDC. "Cruise ships are often settings for outbreaks of infectious diseases because of their closed environment, contact between travelers from many countries, and crew transfers between ships," the report said.
The CDC is urging people to reconsider travel plans involving cruise ships during the pandemic. "Outbreaks of COVID-19 on cruise ships pose a risk for rapid spread of disease beyond the voyage," the CDC said. "Aggressive efforts are required to contain spread. All persons should defer all cruise travel worldwide during the COVID-19 pandemic."
This article was originally published on