WHO Says We're At A 'Decisive Point' As Coronavirus Cases Rise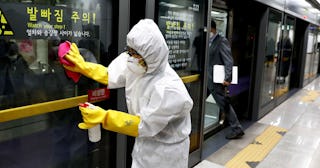 Chung Sung-Jun/Getty
More than 82,000 cases of coronavirus have now been confirmed around the world, and the virus shows no signs of slowing down
The coronavirus is continuing its deadly spread around the globe, and the World Health Organization is warning country leadership that we're all at "a decisive point" as the virus shows no signs of slowing down and swift action will be required to stop its spread.
At least 82,000 coronavirus cases have now been confirmed worldwide, and more than 2,800 of those resulted in deaths. The number of new cases showing up globally each day has now surpassed the number of new cases showing up in China each day. Just this week, new cases were reported in China, South Korea, Italy, Iran, Japan, Singapore, Hong Kong, Germany, Kuwait, France, Spain, the United Arab Emirates, Canada, Switzerland, Iraq, Sweden, Oman, Austria, Norway, Greece, Israel, Lebanon, Denmark, Estonia, the Netherlands, and San Marino. At least 40 countries outside of China are now affected, and the virus is present on every continent except Antarctica.
China still accounts for the vast majority of cases at 78,630. But cases are in the hundreds or thousands in several other countries now, including South Korea, Italy, and Japan. Cruise ship cases are nearing 1,000, and just today, it was reported that another passenger on the Diamond Princess cruise ship, which was quarantined for weeks in Japan, has died. He was the first British national to die from coronavirus, and the seventh total passenger from that ship to be killed by the disease.
The WHO is now saying that the world isn't prepared for a global outbreak, but it looks like that's where this virus is heading. WHO officials say the organization is particularly concerned about Iran, which currently has the highest number of confirmed cases in the Middle East at 141 with 22 deaths so far. Several high-ranking officials in Iran have tested positive for coronavirus in the last few days.
And the disease is also spreading rapidly in Europe following a dramatic outbreak in Italy. More than 50,000 people in Northern Italy are now in a quarantined "red zone," and are cut off from the rest of the country in hopes of slowing the coronavirus' spread.
In a joint statement, the WHO and the World Tourism Organization called for responsibility and cooperation between countries, especially places that get many tourists and already have confirmed cases of the coronavirus.
"Tourism's response needs to be measured and consistent, proportionate to the public health threat and based on local risk assessment, involving every part of the tourism value chain – public bodies, private companies and tourists, in line with WHO's overall guidance and recommendations," their statement says.