145 Corporations Sign Letter Asking Congress To Act On Gun Violence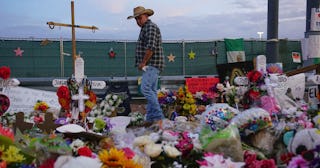 Sandy Huffaker/Getty Images
Major corporations say they're standing with their customers when they say it's time for Congress to do something about gun violence
The leaders of 145 corporations, some of them major household names, are banding together, co-signing a letter to Congress demanding action on gun violence.
"As leaders of some of America's most respected companies and those with significant business interests in the United States, we are writing to you because we have a responsibility and obligation to stand up for the safety of our employees, customers and all Americans in the communities we serve across the country. Doing nothing about America's gun violence crisis is simply unacceptable and it is time to stand with the American public on gun safety," the letter reads. It's signed by the heads of companies like Levi Strauss, Twitter, Pinterest, Yelp, Airbnb, The Gap, Lyft, and Uber.
The letter continues, "Gun violence in America is not inevitable; it's preventable. There are steps Congress can, and must, take to prevent and reduce gun violence. We need our lawmakers to support common sense gun laws that could prevent tragedies like these."
The executives are urging Congress to pass laws that would require stricter background checks, as well as "red flag" laws, which would help prevent guns from landing in the hands of people who have exhibited warning signs for extreme or violent beliefs or behavior. Specifically, they're asking the Republican-led Senate to pass bills that the Democrat-led House of Representatives has already introduced. The laws are written. Republicans just need to get on board with them.
According to the New York Times, many business executives struggled with the decision to get this political with their businesses, knowing that they may lose customers who disagree that the U.S. needs stronger laws to curb gun violence.
"To a certain extent, these C.E.O.s are putting their businesses on the line here, given how politically charged this is," Chip Bergh, the Levi Strauss chief executive who signed the letter for his company, said. But gun violence is something no one can afford to stay silent about anymore, he said. "C.E.O.s are wired to take action on things that are going to impact their business and gun violence is impacting everybody's business now."
This letter comes after a horrific weekend that included mass shootings in both El Paso, Texas, and Dayton, Ohio, killing dozens of people. Since the El Paso shooting, which left more than 30 people dead in a Walmart store, Walmart wrote its own letter to Congress, and started limiting the sale of certain guns and ammo in its stores. Several other stores followed suit, including Walgreens, CVS, Wegmans, and Kroger.
Polling shows that a strong majority of people support laws that call for increased background checks. We are exhausted of living in the only developed nation on Earth that can't get its gun violence problem under control. Will Congress finally act now? We'll just have to wait and see.