Heartbreaking Video Shows Victims Tearfully Embracing After Cosby's Guilty Verdict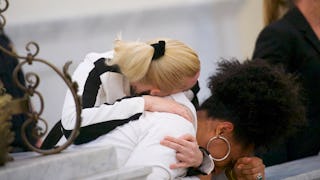 Image via Mark Makela/Getty Images
The images of Cosby's victims are emotional and powerful
Most people feel as though justice was served yesterday as Bill Cosby was convicted of sexual assault, but none more so than Cosby's victims themselves. A handful of the women who have come forward accusing him of sexual assault gathered outside the courtroom after the verdict was read, and tearfully embraced one another in relief.
Bill Cosby was found guilty of sexual assault in a retrial after six women testified that he drugged and sexually assaulted them. Cosby, age 80, faces up to 10 years in prison and a fine of up to $25,000 on each of all three counts of aggravated indecent assault.
During the past few years, more than 60 women have come forward in accusing Cosby of drugging and sexually assaulting them — dating as far back as the 1960s. After the guilty verdict was declared, fellow victims Victoria Valentino, Caroline Heldman, and Lili Bernard were seen openly weeping and emotionally embracing just outside the courtroom.
While dozens of Cosby victims will most likely never see their day in court, hopefully these brave women can all feel a sense of relief in this slice of justice.
It's impossible not to feel a stirring sense of emotion while watching these women tearfully embrace one another. His victims have waited decades to hear that word — "guilty."
Former Temple University employee Andrea Constand — who accused Cosby of drugging and sexually assaulting her in the present retrial — did not speak publicly after the verdict was delivered, but she was also seen embracing friends and family outside the courtroom.
Victoria Valentino, a former Playboy playmate who says Cosby raped her back in 1969, spoke during a press conference after the conclusion of the trial.
"We are vindicated, we are validated and we are now part of the tsunami of women's power and justice. We are not shutting up and we are not going away. Get over it."