MLM Company Rodan + Fields Is Slapped With A Lawsuit
by Christine Burke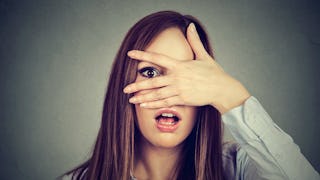 Siphotography/ Getty Images
To be filed under, "eye rolls forever," the multi-level marketing cosmetics company Rodan + Fields was slapped with a federal class action lawsuit alleging that the company violated state consumer protection laws and engaged in fraudulent and unfair marketing for one of its top selling eye lash serum brands. The suit alleges that Rodan + Fields did not disclose the use of an additive that can cause severe side effects, including vision impairment.
Court documents filed in April 2018 in U.S. District Court in Oakland state, "Consumers of Lash Boost … have experienced serious side effects, including change(s) in iris color, eyelid drooping, itchy eyes, eye/lid discoloration, thinning and loss of eyelashes/loss of eyelash hair, eye sensitivity, eye infections, and vision impairment." Sounds fun, right?
At issue is the failure to disclose the use of a chemical called isopropyl cloprostenate, which is a prostaglandin analog. Prostaglandins, which are used to treat glaucoma, play a key role in the generation of the body's inflammatory response. Products that contain prostaglandin analogs, like Allergan's Latisse and R&F's Lash Boost, have a known history of causing inflammation around the surrounding tissues. The difference, according to plaintiffs, between Allergan and Rodan + Fields is that Allergan disclosed the potentially dangerous side effects clearly to their customers; Rodan + Fields did not.
With a field of almost 300,000 R&F consultants across the U.S., it stands to reason that there are many unsuspecting customers who have suffered needless side effects all because those at the top of the MLM pyramid don't want their steady flow of cash to stop rolling in.
Rodan + Fields products were the top selling skincare brand in the U.S. in 2017, which means people are buying potentially harmful products hand over fist, to the tune of an estimated 1.5 billion in revenue, and they have no idea.
WTF, Rodan and Fields?
No, seriously, what the hell were the executives at Rodan + Fields thinking when they decided that they were not going to tell their Lash Boost customers that the eye serum comes with a heavy risk of everything from a loss of eyelashes to an actual loss of vision. I mean, how does that conversation go? "Hey, Bob, the research shows that thousands of women are losing their eyelashes and hundreds of women are reporting eyes swollen shut after a few days of testing the product but hey, let's just throw this report in the garbage and pretend we never saw it, okay?"
Yeah, I'm guessing there are thousands of R&F customers seeing red right now. Literally, and figuratively.
Basically, plaintiff claims that Rodan + Fields has been withholding information when it comes to how they market their cosmetic products to consumers and that's shady AF.
In a response to Racked, a Rodan + Fields rep provided this statement:
"The Company vigorously denies the allegations in the Complaint, and stands behind the safety and efficacy of Lash Boost. We are going to let the specifics of our legal defense play out in court. Lash Boost is intended for use as a cosmetic and as such, has been consistently advertised as improving the appearance of eyelashes. As with any cosmetic, Lash Boost may cause irritation in some users, especially if it is misused. R+F provides clear directions to users, including those who experience irritations. Many of the allegations involve unrelated products, including prescription products that have different ingredients and formulations."
It's no secret that MLM companies typically have no qualms about screwing over their customers in favor of the bottom line. In fact, the FDA sent warning letters to two major essential oil companies, Young Living and doTerra, citing that the companies were making illegal medical claims on their websites. To doTerra's credit, company administrators created new guidelines for their advocates and their websites. DoTerra executives warned their consultants about using any language that claimed any sort of medical benefits. So that's something, at least.
Beachbody, the health and fitness MLM company known for its pre-made health shakes and grueling exercise videos, was fined $3.6 million for charging customers for products without their consent. A judge in the Santa Monica Superior Court found the company guilty of enrolling customers in autopay programs without their knowledge and fined the company heavily.
And let's not forget the billion-dollar class action lawsuit that was levied against leggings giant LulaRoe, shall we? Attorney Josh Watson of the Arnold Law Firm in Sacramento, California, filed the class action suit in late last year on behalf of three former LuLaRoe consultants who say they were screwed out of thousands of dollars thanks to LuLaRoe's shitshow of a management team and business structure. In the suit, Watson lays out his argument that LuLaRoe is functioning as an "endless chain scheme" and is therefore in violation of California's unfair competition law.
Potentially dangerous ingredients. Shady billing practices. Undertrained consultants. Executives who screw consultants out of billions of dollars in revenue.
Still thinking of going on that MLM "journey"? You might want to reconsider.
The Rodan + Fields lawsuit is just one more example of how MLM companies are dangerous for consumers, especially their consultants. Whether it's under-trained reps peddling products that could hurt you or your children if used incorrectly or business practices that swindle you out of your hard earned money, MLM companies have proven time and again that consumers should stay far away from anything they are selling.
Oh, and in case anyone was hoping to collect all of their dangerous Rodan + Fields products to shove them in a Longaberger basket under their sink, no can do. Longaberger went out of business last week. I guess all good things really do come to an end in MLM land. We just have to be patient.
We have reached out for comment from Rodan + Fields, and will update with any new information/commentary we receive.
This article was originally published on