Costco Suspends Its Beloved Free Samples In All U.S. Locations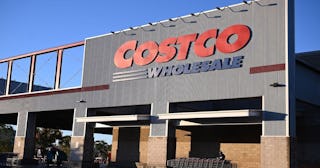 ROBYN BECK/Getty Images
No word on how long Costco will be suspending the mini snacks
If you're a Costco member, you know one of the best things about going shopping there (besides buying a 40-lb. block of sharp cheddar) is the food samples. Shoppers are presented with a literal buffet of choices on a daily basis (double that on weekends) culminating in what amounts to a free lunch if you didn't spend $200 on other bulk items. But now, in an effort to help stop the spread of coronavirus, the retail giant is suspending their free samples.
According to Business Insider, Costco has suspended its free samples in all U.S. locations and in China as well. While there is no evidence to suggest people can be infected with COVID-19 through food, it's pretty obvious that anything sitting out in the open where others can potentially touch could become a risk, as one Twitter user pointed out.
Costco free samples are legendary, helping the store sell its quiches, pizzas, stir fry, and All Of The Cheese since it opened its doors. Not that a three-gallon-sized tub of cheeseballs won't sell itself, but it was still nice to shop without the prospect of getting hangry while you do it.
Cases of COVID-19 in the United States grew to 312 on Saturday, with new cases popping up in several more states and Florida reported its first two deaths. Amtrak canceled nonstop service between New York and Washington, and many U.S. companies are suspending all non-essential travel. Because of this, many people have chosen to stock up on basics, like toilet paper, water, paper towels, and any disinfectant they can get their hands on.
"We're getting deliveries daily, but still not enough given the increased levels in demand on certain key items," Costco CFO Richard Galanti said in an earnings call with investors on Thursday.
To combat this, some Costco locations have put limits on the amount of toilet paper or paper towels customers can purchase. They're not alone, though. Walk into your local Target or Walmart, and you'll likely see rows upon rows of empty shelves where bleach, hand sanitizer, and cleaning products once sat. It's a scary time for many, and whether you're stocking up or not, we now live in a world without free Costco samples.
There is a bright light here, however. Costco's beloved food court has remained open, so no one's going to starve during their Costco run. Their giant pizza, hot dogs, churros, and garden salads are safe (for now); you'll just need to shell out some cash for them.