Costco Is Refusing Returns On Items People Are Hoarding Amid Coronavirus Pandemic
by Julie Scagell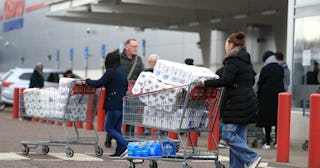 Mike Egerton/PA Images via Getty Images
Costco won't be allowing returns on hoarded coronavirus items
Sites like Amazon have been cracking down on people trying to sell items like Clorox wipes and toilet paper for profit after bulk-buying products needed to protect against the spread of coronavirus. As a result, some folks are trying to return the items for a refund, you know, after realizing they can't possibly use 247 bottles of hand sanitizer. Some Costco stores are taking a stand, refusing to let them return certain items, taking a "too bad, so sad" approach to the situation.
Notices posted at several Costco stores this week are telling customers it will not be accepting returns on key items that some people were hoarding in the wake of the coronavirus pandemic. Though no official statement from corporate has been given, customers are sharing pictures of the signs, stating things like toilet paper, paper towels, rice, water, sanitizing wipes, and Lysol will not be accepted back.
Earlier this week, the retailer announced it would be limiting the number of guests allowed in its warehouses, reducing store hours, and placing restrictions on the number of purchases allowed on certain items, Business Insider reports. "As new information becomes available, management is keeping warehouse staff well informed so they can respond swiftly and appropriately. While the circumstances continue to change and we modify our operations as necessary, we thank you for your patience and cooperation," said Costco President and CEO Craig Jelinek.
The organization has been doing its part to limit the spread of the virus, suspending its free food samples indefinitely in the hope of limiting the spread of the virus.
But this new move is taking things one step further and many customers who've been looking for items for their families and finding empty shelves because of hoarding are happy about it.
"This is such great news! I'm tired of all those people that buy toilet paper and think they can just return it later when they don't need it," one person wrote. "It's about time! Too many people taking advantage of their return policy," another added. "This will prevent people from buying large amounts. They will be stuck with them after this is all over. Good on Costco!" said another.
Costco is doing what it can to help get products to all people amid the pandemic and taking a stand against those who tried to profit from it is the icing on the cake.
This article was originally published on