Costco Is Selling A Cooked, Ready-To-Eat Taco Kit Because They Get Us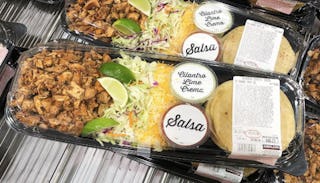 Image via Instagram/Costco
These Costco 'street tacos' are about to be on every parent's weekly shopping list
Taco Tuesday can now be Taco EVERY DAY thanks to Costco, also known as Every Mom's Favorite Store (After Target). Because they are selling a cooked, assembled, ready-to-eat taco kit that is giving us life.
This is noteworthy for two reasons. One, TACOS. And two, because it gives us a family-pleasing meal that we don't have to cook or clean up and put away.
Need to make dinner quickly? If you're a parent, that is an automatic "yes." Well, here you go. This taco kit comes complete with seasoned chicken (it's a taco, and if you don't season your meat, Karen, you're beyond anyone's help), cole slaw, limes, both corn and flour tortillas, cilantro lime creme, and salsa — for those of us who know cilantro can taste like soap shavings.
This super delicious deal on Costco's "street tacos" contains enough fixins for 12 tacos. It's priced at $5.59 per pound, which is honestly extremely reasonable and extremely worth it. Each kit comes in around $16, which is $1.33 per taco — come on, now. For a full family dinner, that just can't be beat.
In case tacos aren't your family's jam (which, if true, who even are you people), Costco is also selling another surefire crowd-pleaser. They've upped their Nutella game recently, from two ridiculously large jars of the hazlenut spread from heaven to one enormous bucket of it.
No joke, they're selling a comically large tub of Nutella that weighs almost seven pounds.
Don't worry, the large, 33.5-ounce jars aren't going anywhere. They're just also joined by this Home Depot-sized bucket of Nutella as well. The tub holds 105.6 ounces of the good stuff, and retails for just $21.99. If you're not sure you want to be seen in-store (or in-driveway, let's be honest) with an enormous container of Nutella, you can have it delivered to your home from Costco.com. Totally worth the $3 in shipping.
If both of these things are something your family can get behind (in which case, let's be friends already), you're in luck. Target is amazing for a million different reasons, and we stan it forever. But Target can't give us ready-made, restaurant-worthy tacos and a swimming pool of Nutella for dessert.
Costco, you get us.