There's A Cottage Made Entirely Of Chocolate -- And You Can Rent It
by Thea Glassman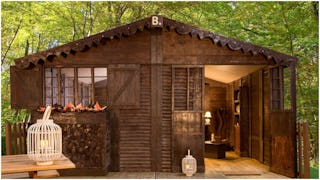 Image via Booking.com
There's a cottage made of chocolate and you can actually spend the night there
Remember when you read Charlie and the Chocolate Factory as a kid and all you wanted to do was win that golden ticket, head to Willy Wonka's, and eat all the sweets in the world? Well, turns out dreams really do come true. There's a cottage in France made entirely of chocolate and you can spend your holiday there. Veruca Salt, thankfully, is not included in this deal.
Here's the whole ridiculously sweet lowdown. Artisan chocolatier Jean-Luc Decluzeau has designed and manufactured an 18-square-meter cottage made of 1.5 tons of chocolate. Literally every single part in the house is crafted from creamy, sweet goodness, including the walls, roof, fireplace, books, and cups. Even the chandelier is made out of chocolate, so you can feel fancy AF while you're living your best, most bizarre life.
Oh, and most of the items in the house are edible which means you can pretty much just snuggle into your chocolate bed and gorge yourself. You will leave with a few more cavities than you came with, but zero regrets. It's vacation.
According to Booking.com, the cottage can accommodate up to four guests, so feel free to bring your fellow chocolate fiends along for the trip. Those staying in this delicious little place can expect, "a decadent, delicious night, surrounded by chocolate treats in every corner. Custom chocolate details inside the cottage include everything from the walls and roof to the fireplace, dresser, clock, cups, books and even a chocolate chandelier."
The mouthwatering fun isn't just delegated to the house. Head outside and you'll find a white chocolate duck pound and a chocolate flowerbed. Suddenly feeling a whole lot of solidarity with that kid from Matilda.
Now for the fine print. The cottage is located Sévres, France, so this will likely involve you purchasing a plane ticket. It costs 50 euros per night and is only available for select dates. Guests have the opportunity to book a stay on September 19 and 26 or October 5 and 6 (so, yes, this needs to be booked ASAP). If you're lucky enough to snag one of those days, you'll also be treated to a workshop that will teach you how to make mini chocolate chalets.
France + chocolate + more chocolate = I'm crying a little bit right now. Also, would definitely love to take a bite out of both the mirror and the fireplace.
Decluzeau says, "I never thought I'd have the opportunity to build a life-size Chocolate Cottage for travelers to sleep in! I'm excited to collaborate with Booking.com and to share my passion for chocolate. I hope guests will relish the chance to experience such a sweet and unique place to stay."
Now, run, don't walk to book your stay. Pure joy and a couple of Oompa Loompas await you.
This article was originally published on