Image Of Country Singer Soaking Up Last Moments With Her Child Will Break Your Heart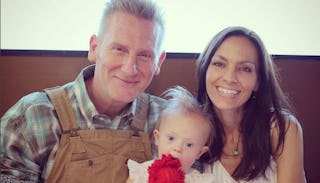 Thousands of fans have sent prayers and well wishes as country singer Joey Martin Feek battles cancer, but her husband, Rory, revealed yesterday that Joey has entered hospice care. He shared the news, along with this incredible photo of Joey and their daughter.
Joey and Rory are a beloved country duo and married couple who've been facing the hardest fight of their lives. In the summer of 2014, Joey was diagnosed with cervical cancer and underwent treatment, including a hysterectomy. Doctors thought they got it all, but the cancer returned and continued to grow and spread despite more aggressive treatments.
Late last month, Joey made the decision to stop treatment altogether at the advice of her doctors. Since then, she's been spending time with her family, including her 21-month-old daughter, Indiana. Indiana, who was born just a few months prior to the initial diagnosis and has Down Syndrome, is Joey's only biological child. She's also a devoted stepmom to her husband's two teenage daughters, Heidi and Hopie.
Joey and Rory have been open about their pain and their struggle throughout Joey's illness. Rory maintains a blog where he updates fans on what's going on with Joey and chronicles his own emotions regarding their circumstances. In a post on Monday, he revealed that Joey has entered hospice care and what are likely her final days. He writes:
"We prayed. We all prayed. God answered.
At 4 am on Friday morning we rushed Joey to the hospital in Muncie. Her pain had become too much to bare. A few hours later the doctors told us that the pain was from the cancer tumors continuing to grow and become inflamed and we need to concentrate now on helping her be comfortable.
Not the answer we hoped for… but the answer He has given us."
Rory also wrote that he brought Indiana to visit Joey in the hospital and the two spent the evening cuddling and singing songs. After Indiana fell asleep, Joey recorded books on tape so the baby will be able to read with her mom even after she's gone. Most importantly, he writes, Joey is at peace with what's to come.
It's the kind of story that almost hurts too much to write about because I don't want it to be true. It's every parent's worst fear to leave their kids too soon, and it's absurdly unfair that this family has to go through this. We all have hopes to grow old with the ones we love, but as circumstances like this prove, nothing is a guarantee. Our time here is fleeting, and — as cliché as it sounds — it's impossible to know what tomorrow will bring.
Joey's decision to share the intimate details of her illness is a gift, not only because it gives us the opportunity to see the incredible strength and faith of this family, but also because it's a reminder that time is precious. No matter how busy or stressed out we are, we can't take the days we get with our children for granted. Joey and her family have faced the unthinkable with stunning grace, and we wish them nothing but love in the difficult days ahead.
This article was originally published on