Festival Performers React To The Mass Shooting In Las Vegas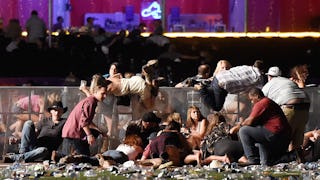 Image via David Becker/Getty Images
Many of the performers took to social media to let fans know they were safe
Details are continuing to emerge about the horrific events in Las Vegas last night, where a lone gunman opened fire into a crowd of people from his window in the Mandalay Bay hotel and casino. There are 58 people now reported to have lost their lives while attending the Route 91 Harvest music festival, a three day outdoor concert featuring some of country's biggest stars.
According to the Route 91 Harvest website, Jason Aldean was on stage during the final day of the festival when the shooting began. While people try to wrap their heads around what has happened, the country music performers present at the festival are speaking out to offer words of sympathy and condolences to the families of the victims.
Unfortunately, this isn't the first time a mass shooting has taken place at a concert venue this year. During an Ariana Grande concert in Manchester, UK, 22 people were killed and more than 60 injured when a suicide bomber detonated an explosive device back in May. And the previous June, a 29-year-old security guard killed 49 people and wounded 58 others at Pulse nightclub in Orlando, which was the deadliest shooting in the history of the U.S. — until last night.
The performers' reactions have ranged from complete shock to anger, frustration, and above all prayer. Others used social media to let family and friends know they were safe and accounted for:
Jake Owen, who was sharing the stage on Sunday, told Fox & Friends this morning, "When the shots started being fired, at first I thought it was pyrotechnics." But then they heard the bullets "ricochet off of the top of the stage and on the stage," and noticed concertgoers were being shot.
"People were running in all directions," Owen continued. "It felt like a bad movie." He and country singer Luke Combs were standing off stage and had just performed when the gunfire began.
According to police, there were more than 22,000 people in attendance for Sunday night's show. Currently there are more than 500 hospitalized for injuries.
This article was originally published on