After Losing Their 2-Year-Old Daughter To Cancer, Couple Creates 'Smile Packs' For Kids Battling Pediatric Cancer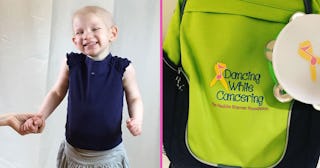 Courtesy of Dancing While Cancering
"Grief is in two parts. The first is loss. The second is the remaking of life." — Anne Roiphe
Those of us who have never suffered the unbearable pain of losing a child often find ourselves saying things like, "I could never endure it…" Or we wonder, "How do they keep going?" when we think of the parents' grief.
But the truth is, we all keep going, regardless of the lot we are handed in life, because we have to. Even mothers and fathers forced to outlive their children. They say goodbye. And they somehow find the strength to remake life using strength and courage they didn't even know they had.
Such is the path for Scott and Pammy Kramer of Chicago, Illinois, who said goodbye to their beautiful little girl Maddie in January of 2018 after an eight-month battle with cancer.
The remaking of life.
How does a parent do it when the pain is so heavy? When the grief wraps around you, suffocating, and you dread waking up in the morning to face another day? Well, for the Kramers, their daughter Maddie showed them how. And it's because of her joy and inspiration that they continue to help other children who are also sick—but also want to have fun, play, and of course, dance.
"Despite being diagnosed at just two-and-a-half years old with one of the harshest diseases life has to offer, Maddie battled cancer the only way she knew how – with the powers of imagination, singing, and lots of dancing," the Kramers tell Scary Mommy. "As Maddie adjusted to her new reality, we wanted to ensure she could still be a kid. So, we quickly worked to transform her hospital room into a playroom. We put streamers on the ceiling, hung paper disco balls on the I.V. poles and curtain hooks, and always had music playing. With each and every hospital stay, Maddie grew more and more comfortable to the point where she looked forward to our 'sleepovers' in what quickly became her new favorite play space."
The Kramers say that even though they couldn't control the outcome of Maddie's illness, they could at least influence "the lens through which her little eyes experienced cancer." In the end, their main goal was to ensure Maddie had the childhood she deserved—even if from a hospital bed—and that they protected "her toddler innocence."
So after their sweet daughter's cancer took the last of her strength away, the Kramers knew they'd have to go on. They'd have to wake up each day and move forward—for their other daughter, Maddie's little sister Lily, and for themselves.
But how do you remake a life when such a huge part of yours is gone? Well, to Scott and Pammy Kramer, Maddie isn't gone. Her spirit, her infectious joy, and her imagination are alive. Other kids like Maddie, who might be stuck in a hospital, but who deserve a real childhood, are finding a reason to smile and laugh and dance, because of their little girl.
That's what Dancing While Cancering: The Maddie Kramer Foundation does. Rather than focusing on Maddie's death, they focus on the exuberant life she lived, and they bottle that energy up in the form of Smile Packs, delivered to children in pediatric hospitals.
The Kramers know all too well that some of these kids may not go home. Some may stay for a week, some for a year. But all of them—regardless of diagnosis—deserve to laugh and smile and have joy throughout their childhood days. So the Kramers' hope is that a Smile Pack delivery does just that.
So what exactly is a Smile Pack?
"It's a bright neon green backpack filled with goodies to help transform the hospital room, including a wireless speaker, musical instruments, and room decorations," the Kramers tell Scary Mommy. "In this special way, when life seemingly has hit rock bottom, 'Smile Packs' bring joy and hope when families need it most. Kids don't stop being kids once they are diagnosed, and it's up to us as parents to let them continue to be imaginative and creative while they fight this battle."
Dancing While Cancering also brings "Maddie Projects" to pediatric hospitals, including hosting in-hospital birthday parties and adding character figurines and toys to play areas so patients can enjoy imaginative play.
As kids battle pediatric cancer, so much focus is on fighting the disease, treatments, and healing, as it should be. But the Kramers figured they'd leave those responsibilities to the amazing doctors and nurses committing to caring for these kids.
What could they do? They could help these kids dance.
And it's catching on. The Kramers initially set a goal of partnering with four hospitals, but less than a year after the founding of Dancing While Cancering, 11 hospitals across 7 states have now signed on to receive Smile Packs and Maddie Projects for their pediatric patients.
The Kramers share that although Maddie was diagnosed just before turning three with Atypical Teratoid Rhabdoid Tumor (also known as AT/RT), which is an extremely rare form of cancer, that she never stopped dancing throughout her 8-month battle.
And those memories of her—that's how they are remaking life. Not without Maddie, but because of her, and with her spirit pushing them forward.
Every new pediatric cancer patient at their partner hospitals receives a Smile Pack, complete with a personalized note from Scott and Pammy Kramer themselves. "Maddie reminded all of us that although we can't always choose the music that life plays for us, we can choose how we dance to it," their note reads.
It's the unimaginable. It's every parent's greatest fear—something happens to your child and you can't fix it. You can't make them better. You can't take away their pain. You can't save them.
Scott and Pammy Kramer know the unimaginable. They've lived it. They know that desperation and they know the heartache of letting Maddie go.
But here's what else they know. Yes, the outcome was out of their control. But her time here, on Earth? That they could fill with love, and laughter, and joy, and music. So they did. They filled Maddie's short life with the most happiness possible, and through Dancing While Cancering, other families like the Kramers can do the same.
To learn more about Maddie and her incredible journey, check out Maddie's Miracle: A Book of Life, published in Maddie's honor by her parents, who donate 100% of the net proceeds received to cancer charities. "The stories will fill your soul with love and inspiration that will leave you forever changed," Scott and Pammy Kramer say.
We have no doubt that's true.
This article was originally published on