Couple Finds Out They're Both Pregnant -- And Due At The Exact Same Time
by Julie Scagell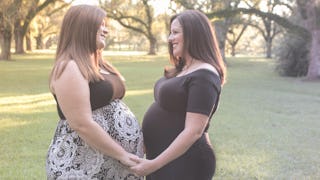 Image via Anna McInarnay/Ginny Sims Photography
They got pregnant at the same time — and are having their daughters on the same day
If you believe in miracles (and we all could use one right about now) allow me to introduce you to Anna and Renee McInarnay. They've been happily together for over 17 years and if that sort of love story isn't enough to make you weepy, here's another gem — they're both expecting baby girls at the end of this week.
"Our journey into motherhood began back in November. Adoption laws for same-sex couples are difficult in Mississippi, so we decided that fertility would be a better option," they tell Scary Mommy. Together since they were 17 and 18 years old, Renee and Anna said they've experienced a lifetime of memories together, but not yet motherhood. And so they began the task of looking into fertility options to expand their family.
Through some digging, they found Audubon Fertility Center in New Orleans and made the decision that would forever change their lives. "After initial testing, we were told we could both conceive," they said. Knowing it would be more challenging for Renee, who has Polycystic Ovarian Syndrome, they decided to see how many viable eggs they both produced. "We knew that the likelihood of us both conceiving was very low, especially on the first try," they explained. "While we weren't opposed to being pregnant at the same time, we didn't think of it as a likely possibility."
And that's when believing in miracles comes in really handy.
The couple decided on one donor, thinking if one or the other didn't get pregnant in that cycle, they could go back into fertility in the future if they wanted more kids. "We found out that Anna had three eggs that were ready. When they checked Renee, one of her ovaries were quiet, but on the other side was a little egg!" they shared. "We called it our unicorn baby."
Is anyone else ugly-crying right now — they both got pregnant at the exact same time and are both expecting daughters this week, I cannot even handle how amazingly wonderful this story is.
When the center finally called to deliver the news, they said, "Anna is pregnant…and so is Renee." After the floods of tears and screams and jumping for joy, ten weeks later they found out they were both having girls. "Since they were conceived 15 minutes apart by the same donor, we call the girls 'paternal twins' even though we know they're half sisters," they said.
The couple, who both teach school full time, said they were prepared for any backlash they'd receive from their community but so far have been treated with a lot of love and excitement. "Renee and I have handled this double pregnancy with the same laughter and joy that brought us together when we were 17 and 18 years old," Anna explained. "We give birth later this week, 36 hours apart so that we can both be present for one another and our daughters."
As imagined, this story hits everyone with the feels because the world is the world right now and everything feels like it's falling apart. "The world feels very divisive right now, but in the middle of it all, we had this incredible reminder that love and hope are still very much alive," they said. "We know of families in fertility for years, and it is not lost on us how fortunate our experience has been. That's the part that makes us feel like miracles. It has yielded an incredible gratitude within us for every person that desires to create a family."