Couple Hides Cash Inside Baby Products At Target To Help New Parents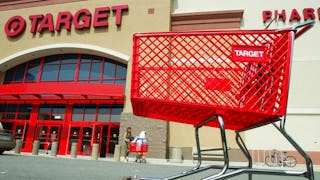 Alex Wong/Getty
The couple wanted to help new parents who might be struggling to make ends meet
Welcoming a baby into the family is a special, precious moment in time. It's also incredibly expensive. So much so, that for some families, the struggle to financially support their new bundle of joy can cause an immense amount of stress. After struggling financially after the birth of their first child, a California couple is now helping new parents in similar situations — by hiding cash in baby products at Target.
Krystal Duhaney and her husband left $1,000 in cash inside baby products like diapers and formula at various Target stores in Southern California, according to ABC affiliate KABC. Duhaney, herself a mom, wanted to help after making it through her own struggles as a new mum.
"When we had our first baby, we struggled to make ends meet," she wrote in the clip. "Now that I own a successful business, I wanted to give back."
So she and her husband decided to go to a few local Targets and hide some cash.
"We really wanted to make things a little easier," Duhaney told KABC. "Hopefully brighten their day and hopefully inspire others to kind of, you know, spread joy and kindness."
Duhaney, the founder of Milky Mama, an organization that assists mothers with breastfeeding, shared the post about her first Target adventure on Instagram. In the video, Duhaney and her husband carefully slip dollar bills into diaper boxes and under unopened formula lids at the Target stores.
"We hope that the parents that purchase these items have a brighter day when they find our gifts," she wrote alongside the video.
Duhaney's post has since gone viral with almost 95k likes and oodles of comments from people impressed with the couple's giving spirit.
'This is amazing. Thank you for giving back in this way," wrote one user.
"This is beautiful! Thank you for bringing smiles to the families that will receive these gifts," added another.
The mom of two (and a registered nurse) wanted to make it known that she and her husband were careful to place the cash in a way that did not tamper with any of the products, especially as the nation struggles to overcome COVID-19.
"Diaper containers are sealed. The diapers are wrapped inside the box as well as formula," she explained. "It's not like we're putting it in the powder. There's a cover. So, we were very, you know, intentional and we were making sure that we paid close attention to those types of things as well, to make sure that we weren't actually contaminating anything."
Their gesture was praised on social media, but Krystal said she hopes their gesture will inspire their children, as well as people around the world, to be kind. What a lovely story and a very kind and cool mama.
This article was originally published on