Couple Introduces New Baby Kitten With Hilarious 'Birth' Photos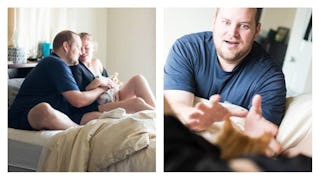 Image via Lucy Schultz and Elizabeth Woods-Darby
Couple's kitten birth photos go viral
Who says professional birth photos are only for human babies? Nobody says that. Nobody. Especially not photographer Lucy Shultz and her partner, who welcomed their first kitten with professional photos shot by friend and fellow photographer Elizabeth Woods-Darby.
In a series of photos that went viral this weekend, Schultz shared the photos on her Facebook page under the event title: "New Baby."
From contractions to crowning to photos of tiny paws, they left no stone unturned in these birth photo parodies:
Woods-Darby (whose work can be found on Instagram at @barefootinthefog) told Scary Mommy about how these photos came to be: "Lucy and I are both photographers and great friends, [so she] asked me to shoot the birth announcement of her new adopted shelter kitty…We've teamed up on shooting births together (I'm also a videographer) in the Denver area in the past and I think that was part of our inspiration. We've told that story before, those raw, beautiful moments of new life and wanted to transpose that into this project."
And boy, did they nail it, over and over again. Check out the sweaty, disheveled new mom cradling her rescued kitty in a hospital baby blanket:
The proud…papa?
She has his eyes.
#Blessed
Checking to see if it's a boy or a girl, and finding that it's furry.
All swaddled up and ready for a close up.
Itty bitty kitty paws.
You have to appreciate the work of these folks who clearly don't take themselves too seriously and wanted to have some fun with this new addition to the Schultz family. Plus, the photos are beautiful. I don't care if it's a kitten or a baby or a potbellied pig, those are some darn pretty pictures.
For their part, Woods-Darby and Schultz are taken aback by how quickly the photos took off: "We had NO IDEA it would go viral like this. It's been a shocking and surreal experience. We've both gone through a lot of extra deodorant over the past two days!"
Congratulations, Schultzes! Now, don't you guys have a litterbox to change?
This article was originally published on