Passengers Become Wedding Guests When Couple Ties The Knot In The Sky
by Valerie Williams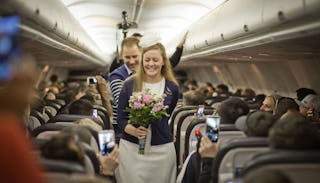 Image via Frees it in Time Photography
Travelers got a big surprise when they witnessed a mid-air wedding between a flight attendant and her soulmate.
Air travel typically conjures images of drudgery and frustration. Hauling bags, dealing with security and being crammed next to perfect strangers for hours is not exactly a pleasure. For one lucky flight, that was not the case as passengers traveling from Los Angeles to Seattle got to witness a very special wedding ceremony while en route to their destination.
Alaska Airlines flight attendant Kristy Stratton found out in September 2014 that her mother, Billie Jo Stimmel, had stage 4 lung cancer. According to Today, Billie Jo told her daughter she wanted to see where she lives and works — and to witness her marry the love of her life. That was well over a year ago, and the mother and daughter got to do all of that and then some last week when Kristy married her soulmate, Jim Larsen, on the Alaska Airlines flight where they first met on a layover.
Instead of a traditional wedding, the couple opted to be married on the flight with Billie Jo sitting front and center. Kristy says, "I was thinking of unique wedding ideas while driving home from a red-eye about a month before the wedding and thought it'd be a cool idea to get married on that exact flight." Now, the story of their wedding has touched so many people in a way the couple never saw coming.
After getting clearance from Alaska Airlines, Kristy set about gathering the pastor, Scott Wetzel, and securing fellow Alaska Airlines flight attendant Christina Frees as their photographer. Frees, of Frees it in Time Photography, tells Scary Mommy what it was like to play such a big role in her good friend's wedding. "I always want to do a great job but I knew I wanted to make sure to capture this extra special situation. Kristy & Jim are really laid back individuals so they were happy with anything and none of us expected this to reach people the way it has."
As they boarded, passengers were handed bubbles, chocolate roses and candy sweethearts, which were the first candy Jim gave to Kristy. They still had no idea what they were about to be part of. Frees tells Scary Mommy, "I have never photographed a wedding where the people attending the wedding didn't know they were going to be part of such an emotional and intimate moment. None of the 165 passengers knew the couple and everyone was so excited to share in their love."
After the plane was in the air, a flight attendant announced to passengers over the loudspeaker what they were about to see and gave some information about the couple. Kristy and Jim married moments later, exchanging rings and pilot wing pins as the passengers, including Billie Jo, looked on.
Upon landing, Kristy tells Today that they got to spend time with her mom in Seattle including enjoying a wedding reception at their home with about 60 people in attendance. Kristy says of the special days they got to spend together, "My mom has been smiling for weeks — I love it."
Obviously, this was no ordinary wedding. We can only imagine what it was like for Billie Jo to see her daughter marry the love of her life in the work atmosphere that means so much to her. It's what every mother hopes for when they picture their child's future — a happy marriage and fulfilling career. It's inspiring to see her celebrate with Kristy and Jim, despite her diagnosis. She didn't let it stop her from enjoying the special day.
As for the passengers who unwittingly became a part of this couple's story Frees says, "It was so amazing to see people come together to celebrate a beautiful love story and touching moment with Jim, Kristy and her mom Billie Jo." Judging by the Twitter reactions, they were definitely surprised and honored to have been there.
Congratulations, Kristy and Jim! We wish you a lifetime of happiness.
This article was originally published on