Couple's Olive Garden-Inspired Baby Name Has The Internet In Tears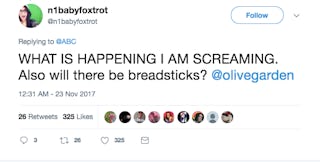 Image via Twitter
Maybe 'Unlimited Breadsticks' was their backup name?
People often use the birth of a child as an occasion to honor someone special to them, like a beloved grandparent, or an old friend, by incorporating that person's name into the name of their child. One couple decided to go a slightly different route and use their daughter's name to pay tribute to their favorite chain restaurant.
After all, we're all family there.
How much do you love Olive Garden? It doesn't matter because there's no way you love it as much as Justin and Jordan Garton love it.
That's right, the young couple purposely chose the name Olivia for their daughter because Olivia Garton sounds like 'Olive Garden," their favorite restaurant.
"I'm only the third generation on my dad's side to be born in America," Jordan Garton, 26, told ABC News. "I just love Italian food and growing up in Arkansas that's pretty much one of the only Italian places that we ever got to go."
How much do you love Olive Garden? It doesn't matter because you've probably never eaten there every day for seven weeks straight like the Gatons did.
After buying a $100 'never-ending pasta pass" that allows Olive Garden customers unlimited pasta and soft drinks for a limited time, Justin and Jordan made sure to get their money's worth by spending the better part of two months eating at the restaurant.
"We committed to eating there every day for six or seven weeks to get our money's worth," said the 28-year-old expecting father. "It saved us several hundred dollars when we really needed it."
Now, not only are they somehow not sick of eating at the family-friendly Italian chain, they still love it so much they've forever linked it to their lives with their daughter's name. That's amore!
As you might expect, the internet has opinions on the couple's name choice. And they are surprisingly positive.
Well, not all of them…
But most!
https://twitter.com/jetpack/status/934287170684276742
https://twitter.com/jetpack/status/934208820754214913
The Gartons have even given a few people ideas of their own.
Luckily for the couple, Olive Garden itself seems to approve.
https://twitter.com/jetpack/status/932439794134736896https://twitter.com/jetpack/status/934060532147150848
Hopefully, Olivia herself will approve too.