Couple With Down Syndrome Celebrates 22 Years Of Marriage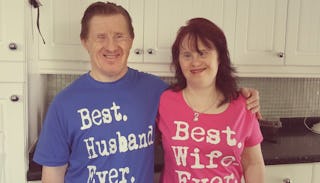 Image via Facebook
Couple with down syndrome celebrates 22 years of marriage
A couple with Down Syndrome has been married for 22 years, and their solid marriage is proof that love conquers all.
In 1995, Maryanne and Tommy Pilling were considered one of the – if not the first – couples with down syndrome to tie the knot, and it would probably be an understatement to assume that most people didn't expect their union to last. 22 years later, it's stronger than ever.
Maryanne's sister created a Facebook page to document the couple's amazing romance, and Lindi recently shared some details of their courtship with the Daily Mail.
"The day Maryanne met Tommy she came home with the biggest smile on her face. She couldn't stop talking about him and asked if he could come for dinner. They dated for about 18 months and then he approached my mum, Linda, to ask if he could propose. He had a toy ring from a vending machine."
Lindi explained that her mother approved, despite knowing there would be controversy.
"She received a lot of flak at the time for letting them get married but she insisted it was their decision." Two decades of marriage seems to bear that out, and the internet has taken notice.
The Facebook page Lindi created has gained nearly 15,000 fans in short order, and the support they've received has been extraordinary.
"Extra chromosome. Extra love! Fantastic that they have so many people behind them supporting them xx"
"Positively BEAUTIFUL! So glad your mom stayed strong for her daughter and son-in-law's happiness. I love this perfect love story and hope you get a million likes!
"
"You are an inspiration that true love can outcome anything in this world. May God continue blessing your marriage and your family, and many more to come"
Years after receiving criticism, the couple has survived, and has no regrets.
"My wedding was the best day of my life. I was shocked when Tommy proposed but I didn't have to think twice about saying yes," Maryanne said. "Tommy and I never argue. I love my husband very much. He is my best friend."
The pair lives independently, with family nearby, and they hope that couples everywhere, of all stripes, find hope in their lasting bond. As Lindi said, "People worried about their own children or grandchildren with Down's Syndrome get hope from Maryanne and Tommy's story. Hope that their children can also fall in love and live happily ever after."
Love is love is love is love is love is love is love is love…
This article was originally published on