Stunning Photo Of Mystery Couple's Cliffside Proposal Goes Viral
by Jerriann Sullivan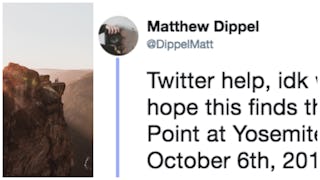 Images via Twitter
Twitter is trying to find the couple in this Yosemite proposal photo
A photographer is harnessing the power of Twitter to help find the couple featured in a gorgeous Yosemite proposal photo he snapped. If you were this couple, you'd want a copy of this stunning photo.
Professional photographer Matthew Dippel snapped it when he was visiting Yosemite National Park in California, and now he's trying to find the couple featured in it so they can have a copy. Dippel took to Twitter in hopes that someone would recognize the couple.
I don't have any photos from our engagement as my no-frills husband proposed in bed one morning, and we never bothered to get professional ones taken. But I love a beautiful picture as much as the next lady, and this one is seriously gorgeous.
"Twitter help, idk who these two are but I hope this finds them," he writes alongside the photo. "I took this at Taft Point at Yosemite National Park, on October 6th, 2018."
The professional photographer, who specializes in photographs concerts, portraits, and landscapes, tells Mashable that the photo was captured on accident. He was waiting for his friend Josh to walk out the vista point in the picture when he saw the proposal happen. Since he already had his camera ready, he snapped a few pictures of the special moment.
"Before he walked out onto the ledge the couple did first and then next thing I knew he was on one knee," he shares. "I had my settings all ready to go, due to waiting for Josh, so I just snapped away and managed to get a beautiful photo."
Dippel got his shots of Josh and decided to look for the couple in the engagement photo. Sadly, he didn't have much luck. "There were maybe 12 other photographers there along with three or four brides and grooms taking photos at the point," he explains. Dippel says he doesn't normally do engagement photos, but wowee — maybe he should consider a new career direction, because damn. That photo. It's just breathtaking.
He remains dedicated to finding the couple, though, so if you know a couple who just said "yes!" at one of America's best national parks, let them know they're internet famous.