These Engagement Pics Prove You Don't Need A Prince For A Fairytale
by Sarah Hosseini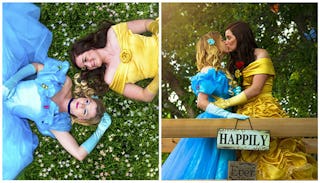 Image via Taylor Snyder Art
Couple's princess engagement photos are a modern day fairytale
It's all about princess charming for this love story. Yalonda and Kayla Solseng captured their happily ever after in a princess themed engagement photo shoot in Minnesota in June. Their photos and love story have gone viral for very obvious reasons.
These ladies are simply enchanting.
Kayla is the one dressed up as Belle from "Beauty and the Beast" in a elegant yellow ball gown and Yalonda is draped in Cinderella's iconic blue dress. They look like they came straight out of a Disney movie. We can't stop swooning over these photos shot by Taylor Snyder Art & Photography.
"Yalonda had a dream one night about it, then began researching costumes. So we asked some friends to help and we made it happen!" Kayla tells Scary Mommy. She says the couple's inspiration came from their mutual love for the show Once Upon a Time. "The show rewrites fairytales and this was our modern day fairytale," Kayla says. A perfect modern narrative for a modern marriage.
The couple met about two and a half years ago on the dating site Plenty of Fish: "It was truly love at first sight and our connection was like none other." Kayla explains the couple then hung out every single day for the next three weeks. "We couldn't get enough of each other!"
"After the photo shoot we were sitting around talking because it started raining outside," Kayla explains. "Yalonda (semi-jokingly) made the comment that these photos will definitely go viral! She's always been a dreamer, that's one thing that I love about her." We're in love with their love and so are thousands of other people.
"It feels so surreal to be shared all around the world. We get many messages from people all over just simply thanking us for showing our love through our photos," Kayla says. She hopes their story is an inspiration for others.
Yalonda and Kayla were married September 3rd in Minnesota. The couple never got a honeymoon because of financial reasons, but Kayla and Yalonda say they're unfazed because their honeymoon hasn't ended. "We live everyday like a honeymoon," Yalonda says. "We are more in love with each other with every day, and if our love can inspire others then that's truly amazing."
The couple is not minding the attention or the questions about their love life. In fact, it's presented a wonderful opportunity for them.
"We enjoy every single minute of this and being able to spread the LOVE!"
This article was originally published on