Federal Judge Stops Trump From Coming For Our Birth Control
by Julie Scagell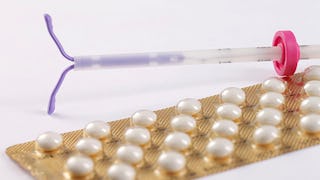 Image via Getty MediaForMedical/UIG
Trump's rule allowed employers to exclude covering contraception
In October, the Trump administration enacted a rule that would allow any company or nonprofit group to exclude contraception coverage from their health insurance plans if it has a religious or moral objection. But this week, a Pennsylvania judge placed an injunction on that order, which will temporarily block it from going into effect nationwide.
The Department of Health and Human Services originally stated the objective of the rule was to allow employers to exclude covering contraception under the Affordable Care Act and according to Roger Severino, director of the HHS Office of Civil Rights, to "have space for organizations to live out their religious identity and not face discrimination," NPR reported.
US District Judge Wendy Beetlestone agreed to grant the motion for a preliminary injunction, stating that this administration's rules may cause the women of Pennsylvania suffer "serious and irreparable harm."
Pennsylvania Attorney General Josh Shapiro agrees: "This is just the first step, but today is a critical victory for millions of women and families and for the rule of law." "We're pleased we've won the first battle in our fight today and look forward to the next steps."
A prescription that requires a doctor's visit, such as birth control pills that can aid in the prevention of a medical condition or complication should be covered under a person's insurance. Period. Pregnancy is a serious medical condition related to a variety of health-related issues, including death of the mother.
For what it's worth, women also use the birth control pill for things other than preventing pregnancy, including migraines, cysts, endometriosis, and other health conditions. Precluding coverage, thereby making it less affordable (or not affordable at all) because of a moral objection is not acceptable. If a person has an objection to contraception, don't use it. End of story.
How about we leave what happens to a woman's body to the woman?
Twitter quickly erupted with support of the judge's decision:
Beetlestone's injunction will remain in place nationwide until the trial concludes and prevent Trump from releasing the exemptions from the mandate until the full case is heard.
Beetlestone based her injunction on the fact that an employer could easily stop providing coverage to women based on a number of factors, including believing a woman shouldn't be in the workplace and use the rule as a loophole.
"It is difficult to comprehend a rule that does more to undermine the Contraceptive Mandate or that intrudes more into the lives of women," Beetlestone said.
This article was originally published on