Courteney Cox Pays Tribute To Phoebe With Star-Studded 'Tiny Dancer' Cover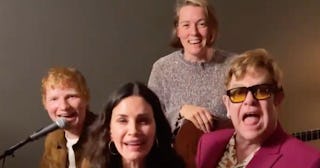 Courteney Cox/Instagram
Courteney Cox gathers Ed Sheeran and Elton John to sing the Phoebe version of "Tiny Dancer" and it's everything
Courteney Cox is having a moment. Not only is she fresh off the highly anticipated Friends reunion show that took place recently, but she's making new memories of her own with Ed Sheeran and friends. Not only did she perform the famous Ross and Monica "routine" dance with Sheeran, she's just released another nod to the show — a rendition of "Tiny Dancer" Friends fans will know well.
On June 6, the actress shared a video on Instagram with Sheeran, Elton John, and Brandi Carlile in honor of her former costar and good friend, Lisa Kudrow. The group performed a cover of "Tiny Dancer" with Phoebe Buffay in mind. "Lisa Kudrow, this is for you," Sheeran said before they break out into Phoebe's version of the song, "Hold me close, young Tony Danza."
"One of the greatest moments of my life," Cox captioned the video. "This one's for you @lisakudrow. #phoebe #tonydanza #tinydancer." In the video, Cox played the piano while Sheeran and Carlile strummed the guitar and Elton sang his famous song. Well, a version of it anyway.
If you need reminding of the Friends episode for reference, here you go. When discussing the most romantic song, Phoebe said, "I think it's that one Elton John wrote for the guy on Who's The Boss." Hey, it happens. Until I was an adult, I thought, "You Make Me Feel Like A Natural Woman," was, in fact, "You Make Me Feel Like A Man, I'm A Woman."
The clip, filmed by Jade Ehlers, is already taking the internet by storm because hello. It's four ridiculously famous people singing one of the most iconic songs in the world with a comedic twist that perfectly summarizes why we all loved Friends and were so ready for the cast to reunite.
Even though the foursome didn't get the original lyrics of Phoebe's exactly right, Kudrow herself replied on Instagram to correct them, jokingly saying, "Technically it's 'Hold me close, Young Tony Danza,' but what you did was great too … and, including the original song that you wrote, Sir Elton, that was really good too."
Joking aside, Kudrow also said their performance was "the most thrilling thing ever. It was so good." Could this entire situation BE any more hilarious?
Kudrow was over the moon to be reuniting with her former costars. "It's not, like, a scripted thing," she told Rob Lowe on his podcast Literally With Rob Lowe. "We're not portraying our characters. It's us getting together, which just doesn't happen a lot and has never happened in front of other people since 2004 when we stopped. I think it'll be great."
It was great. This video makes it just a tiny (dancer) bit better.
This article was originally published on