Wife Arrested For Turning In Her Violent Husband's Guns To Police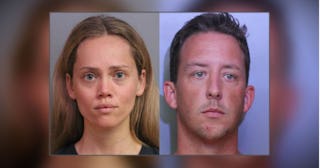 Polk County Sheriff's Office
A victim of domestic violence was arrested for trying to protect herself from her violent husband
An alleged victim of domestic violence tried to remove her estranged husband's firearms from his residence by bringing them to the local police department — and she was promptly arrested and charged with armed burglary. Even though she says she feared for her life and was trying to do the right thing by giving his guns to the police for her own safety.
On the day of June 14, Courtney and Joseph (who also have a young child together) were in court for their divorce hearing. According to the arrest affidavit, Joseph followed his wife as she was leaving the courthouse and began ramming his car into the back of her vehicle — resulting in his wife being driven off the road. The affidavit says Courtney called the police while "uncontrollably crying and advised that she was in fear for her life."
According to HuffPost, Courtney also apparently had to seek multiple protective orders against her husband in the past. After the call, police arrested Joseph and charged him with aggravated battery with a deadly weapon. She immediately applied for a temporary injunction for protection.
The following day, Courtney testified at her husband's hearing via phone call. The presiding judge granted Joseph "pretrial release" with the condition that he not own, possess, or carry firearms. Courtney went to her husband's residence and located his assault rifle and handgun and took them to the Lakeland Police Department.
Court documents show the police officer who was on duty at the time was informed that her husband was arrested the day before and that she handed in his firearms personally because she didn't believe he would turn them in himself. The officer questioned Courtney about taking her husband's firearms without his permission, and she admitted she did. He told her that meant she was confessing to a crime. She was arrested and charged with armed burglary of a dwelling and grand theft of a firearm.
The injustice of it all is not lost on anyone who has read her story — an allegedly abused wife, fearing for her life and that of her child, has fewer rights than her violent husband's firearms.
https://twitter.com/jetpack/status/1142429912940404736
https://twitter.com/jetpack/status/1142420967278485505
Arguably the most insulting part of this entire story is that Joseph Irby was released the day after he rammed his wife's car repeatedly off the road. Courtney, a victim of domestic violence, was forced to spend five nights and six days behind bars before she was granted bond. Almost a week in jail for trying to protect herself and her child from a man who had already proven himself to be a danger.
Courtney's instinct to remove her husband's firearms were spot-on. When abusers are armed, their victims are more likely to be killed, according to the National Institute of Health. In Florida alone, it's estimated there are 200 domestic violence deaths annually.
Her lawyer, Lawrence Shearer, says his client's actions don't technically count as theft under Florida law and that she shouldn't have been arrested and forced to spend multiple days behind bars.
"Theft is to deprive someone of the right or benefit of property," he tells HuffPost. "She didn't do either one of those. She was taking them to the police department for safekeeping. I have faith in our state attorney's office that they will do the right thing."