20K Empty Chairs Near The White House Commemorate 200K Dead From COVID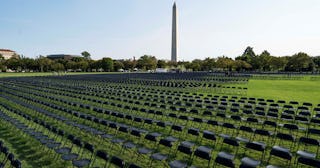 Xinhua News Agency/Getty
On National COVID-19 Remembrance Day, survivors of the virus set up 20,000 empty chairs representing just one-tenth of Americans who have died from the virus
As of Tuesday, nearly 210,000 Americans have lost their lives as a result of COVID-19, the virus President Donald Trump claims we should all learn to "live with." While there has been no official communal mourning to honor those who have died, on Sunday survivors of the virus and families of victims decided to host their own memorial across from the White House, setting up 20,000 empty chairs to commemorate one-tenth of the deceased.
The memorial was organized by Covid Survivors for Change, a group of Covid-19 survivors and families of victims that deemed Sunday National Covid-19 Remembrance day. The event took place at the Ellipse, a 52-acre park south of the White House. In addition to setting up 20,000 chairs — one chair for every 10 lives lost to coronavirus — people shared their stories about loved ones lost to the virus.
Chris Kocher, founder of Covid Survivors for Change, explained to CNN they chose Sunday as it was the six-month mark of the pandemic, and pointed out that despite the staggering death toll, there has been a lack of national recognition for those killed by coronavirus.
"We are living through this collective national trauma — we're six months into the pandemic and still sort of reeling from it. A big part of compounding people's grief … is the lack of acknowledgment, lack of recognition," he told CNN.
He explained that he wanted a display that "captured the sheer volume of loss," adding that the "numbers speak for themselves."
The group hoped that the location of the event was the perfect spot to attract the attention of the White House and lawmakers who could help prevent more deaths.
Lisa Billings, an ER nurse from New York, shared that she lost her brother, Leo, to the virus. "For many frontliners like myself, we cared for Covid-19 patients without hesitation, but it didn't mean we didn't sacrifice something as well," she said during the ceremony.
The group has also developed a petition, which can be signed on their website, urging elected leaders to do the following:
Develop a data-driven pandemic response that prioritizes effective prevention and outbreak reduction strategies
Reopen the economy in a way that prioritizes the safety of all Americans
Encourage and model recommended pandemic safety behaviors like wearing masks and social distancing
Provide ongoing support, treatment, and resources for those who have been impacted by COVID-19
"We have to stand together to get through this crisis. Let's raise our voices and make a change," they urge.