Coronavirus Can Live In Patients For Up To 37 Days
by Cassandra Stone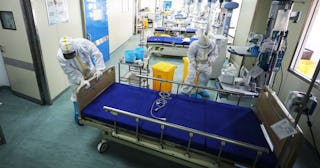 STR/Getty
New study suggests that COVID-19 patients may remain contagious for as long as 37 days
Research into the coronavirus pandemic sweeping the globe, COVID-19, is slowly becoming available as the virus spreads worldwide. A new study indicates that patients with the virus may remain infectious for up to 37 days after contracting it.
Chinese doctors examined respiratory samples from nearly 200 patients, including 54 who died from the disease. They detected COVID-19 RNA (ribonucleic acid) in respiratory samples from survivors after a median of 20 days after they first contracted it. According to the study, the longest duration of "viral shedding," the process in which the virus leaves the cells, was 37 days.
The results of this study have "important implications for both patient isolation decision-making and guidance around the length of antiviral treatment," Fei Zhou from the Chinese Academy of Medical Sciences and his co-authors write in the findings.
So far, COVID-19 has spread to 118 countries and infected about 125,000 people since it originated in Wuhan, China, in December 2019. Health experts around the globe are trying to understand everything they can about the new virus, like how it spreads and every measure that can be done to contain it.
The incubation period for the virus is estimated to be around five days. Scientists and health officials are recommending people avoid traveling, events with large crowds, and why universities around the U.S. are switching to online learning throughout the next few weeks.
The U.S. Centers for Disease Control and Prevention is the leading health agency among many that are recommending a period of at least 14 days of self-isolation for those who were exposed to anyone infected with COVID-19, the pneumonia-like disease caused by the news virus. And since the incubation period is five days long, and basically anyone who works in public wouldn't absolutely know if they were in contact with someone who was infected, it's probably best to just quarantine yourself regardless if you're feeling ill — not just for yourself, but for all the vulnerable people around you, too.
In the coming weeks and months, as the virus wreaks havoc on people everywhere, more studies and research will become available. Until then, the findings here are important to note — especially in terms of the length of contagion, according to the co-authors.
"This has important implications for both patient isolation decision making and guidance around the length of antiviral treatment."
This article was originally published on