Georgia Reopening May Risk More Exposure For Residents
by Leah Groth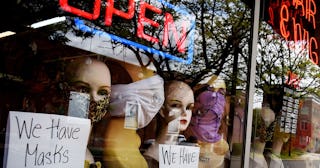 OLIVIER DOULIERY/Getty
Georgia, one of the first states to reopen the economy, is possibly putting residents at risk
Update: Forbes pulled the article this post sourced information from after state leaders argued that it was inaccurate. We have changed the post to reflect that.
Nearly two months into the COVID-19 pandemic, people around the country are getting restless. However, reopening the economy and relaxing social distancing guidelines before adequate testing and contact tracing is in place could have a detrimental effect on the wellbeing of the country — and the state of Georgia may soon be early evidence of that. While the majority of states were still enforcing recommended social distancing guidelines, Georgia Governor Brian Kemp opted to reopen the economy sooner rather than later.
Kemp reopened gyms, bowling alleys, tattoo parlors, barbers/hair salons, nail salons and massage studios on April 24. Then, on April 27 he added restaurants, movie theaters and private social clubs. On May 1 he opted to abandon the state's shelter-in-place order nearly two weeks early.
According to a Trump administration model obtained by the New York Times the number of coronavirus cases and deaths in the week ahead are expected to surge from 2,000 per day to up to 3,000 deaths each day by June 1. The internal document featured projections based on modeling from the Centers of Disease Control and Prevention.
"There remains a large number of counties whose burden continues to grow," warns the CDC in the document.
However, the White House Coronavirus Task Force denies ever having seen it.
"This is not a White House document nor has it been presented to the Coronavirus Task Force or gone through interagency vetting. This data is not reflective of any of the modeling done by the task force or data that the task force has analyzed," Deputy White House press secretary Judd Deere told the NYT.
"The President's phased guidelines to open up America again are a scientific driven approach that the top health and infectious disease experts in the federal government agreed with. The health of the American people remains President Trump's top priority and that will continue as we monitor the efforts by states to ease restrictions."
This article was originally published on