We've Got Some Good News About The F*cking Pandemic
by Kimberly Zapata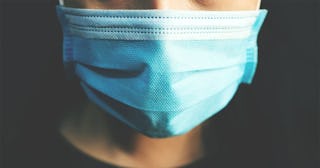 Rattankun Thongbun/Getty
Since the start of the COVID crisis, the news has been (admittedly) quite bleak. There have been more than 113,000,000 cases of coronavirus worldwide — and nearly 2.5 million deaths. We've been hit by wave after wave of the infection, with several different mutations and variants now circulating throughout the U.S. and beyond, and because of COVID-19, millions are without work. Businesses have shuttered. Schools around the country — and world — remain closed and shut down. But there has been some good news as of late. From increasing inoculation rates to declining infections, there seems to be both hope and help.
"At last, we have a number of areas of good news regarding this terrible pandemic," Professor Kamlesh Khunti tells Medscape UK. "Firstly, the rates of coronavirus are improving." In the United States, for example, COVID fatalities are down almost 30 percent and hospitalizations are down 15 percent. "Secondly, the UK [and other] vaccination programs have been a massive success." 208 million doses have been administered worldwide, and the number of new cases is also declining.
According to the Washington Post, "after hitting almost unimaginable highs of hundreds of thousands of new cases a day over the winter holidays, the coronavirus infection rate in the United States has plummeted to levels not seen since the fall, with a seven-day rolling average under 65,000." But that doesn't mean we are out of the woods. Not now. Not yet. In fact, Dr. Anthony Fauci has cautioned Americans to avoid feelings of complacency and comfort.
Masks will likely still be necessary in 2022, Fauci implied during an interview with CNN's Dana Bash. "I think it is possible that is the case," Fauci said. The level of new infections must go "way down," he added, before he could say people needn't wear face coverings.
"I want it to keep going down to a baseline that's so low there is virtually no threat," Fauci added. "If you combine getting most of the people in the country vaccinated with getting the level of virus in the community very, very low, then I believe you're going to be able to say, you know, for the most part, we don't necessarily have to wear masks." But that will take time, and in the interim, social distancing remains a necessity. It is essential we continue to treat this virus as a threat, to ourselves and others.
"Obviously, with a 90-plus percent effective vaccine, you could feel much more confident [about not getting the virus,]" Fauci told Jake Tapper on "State of the Union" in November. "But I would recommend to people to not abandon all public health measures just because you have been vaccinated."
Of course, Fauci has long warned we are (and would be) in the COVID crisis for the long haul.
"It's a false narrative to take comfort in a lower rate of death," Fauci said during a live stream press conference with Sen. Doug Jones of Alabama in July. "There's so many other things that are very dangerous and bad about this virus, don't get yourself into false complacency… it's not going to be easy," he added. "Anyone [who] thinks it will be easy is not facing reality. It's [overcoming COVID-19] going to be very difficult."
The good news is that Fauci agrees with President Joe Biden's recent assessment that "we'll be approaching normalcy by the end of this year."
"As we get into the fall and winter, by the end of the year, I agree with the president completely that we will be approaching a degree of normality," Fauci said. "It may or may not be precisely the way it was in November of 2019, but it will be much, much better than what we're doing right now." He also believes we will reach herd immunity by the fall.
"[If] we get 75 percent, 80 percent of the population vaccinated," Fauci explained to CNN's Sanjay Gupta in December. "If we do that, if we do it efficiently enough over the second quarter of 2021, by the time we get to the end of the summer, i.e., the third quarter, we may actually have enough herd immunity protecting our society that as we get to the end of 2021, we can approach very much some degree of normality that is close to where we were before."
Of course, "normalcy" doesn't mean COVID will be a distant memory. "Some people have gotten this idea that we're going to get to 'Covid zero,'" Dr. Amesh Adalja of Johns Hopkins University told The New York Times. "That's not realistic. It's a fantasy." Infectious disease expert Dr. Stefan Baral agrees, as he outlined in a tweet:
However, the Times goes on to say that the ultimate goal is not to eliminate COVID, which is impossible for now, but to get it to a manageable level on par with the seasonal flu. "[T]he seasonal flu does not grind life to a halt," the Times points out. "It does not keep people from flying on airplanes, eating in restaurants, visiting their friends or going to school and work."
But in order to get to that level of normalcy, we cannot rest on our laurels. We need to continue to wear masks, practice social distancing, and stay vigilant. We all must keep our guard up and do our part, so that COVID will no longer be a raging pandemic, but a nasty — yet manageable — nuisance.
Information about COVID-19 is rapidly changing, and Scary Mommy is committed to providing the most recent data in our coverage. With news being updated so frequently, some of the information in this story may have changed after publication. For this reason, we are encouraging readers to use online resources from local public health departments, the Centers for Disease Control, and the World Health Organization to remain as informed as possible.
This article was originally published on