Covid Vaccine Boosters Could Be Available To Everyone By Thanksgiving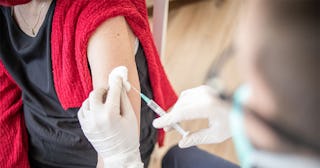 Milan Markovic/Getty
You might need another Covid shot to stay protected from the virus and good thing because they're likely coming soon
If you've already gotten two doses of the Covid vaccine, a third might be just around the corner. Pfizer asked the FDA this week to authorize booster shots for all Americans over the age of 18. If granted, boosters could be available to any adult by Thanksgiving.
Right now, boosters are only available to adults who fall into certain categories. That includes those 65 and older, anyone who lives or works in a high risk setting, people with underlying health conditions, and those who previously received the one-and-done Johnson and Johnson vaccine. More than 26 million Americans have already gotten their booster, according to the CDC — despite some occasionally confusing information.
Back in September, an FDA panel originally opted *not* to authorize boosters — saying the two dose regiment provided strong enough protection. In the months since then, however, health experts have seen more data all pointing toward the benefits of boosters. The effectiveness of the two-dose vaccines does seem to decrease over time — one study of vaccinated U.S. veterans that their protection against COVID dropped from almost 90% to less than 50% six months after initially receiving the vaccine (thankfully, however, the shots remained highly effective at preventing hospitalizations and deaths).
A separate Israeli study had similar findings. Of the nearly 5 million vaccinated people they examined, researchers found they were about twice as likely to develop a breakthrough Covid infection at six months post vaccine, as compared to four months after their shots. Health officials are now hoping boosters will be the key to reducing some of those breakthrough infections, and help put the pandemic in the rearview mirror.
If you're eligible already or are patiently waiting to become eligible for a booster, keep in mind that it doesn't matter what shot you received initially. It's OK to mix and match. If you originally got a Moderna shot, a Pfizer booster is fine, for example. The most important thing is to get whichever shot is available to you, and as soon you're able to get it.
It's always a good idea to consult with your physician if you're not sure whether you need a booster, but one doctor told CNBC that there's very little downside. "There's no indication that there's something inherently risky about obtaining a booster of this vaccine," virologist Christopher Mores said. "There is certainly something inherently risky about becoming infected with Covid."