Johns Hopkins Doctor Says COVID-19 Cases Could Start Declining In March
by Christina Marfice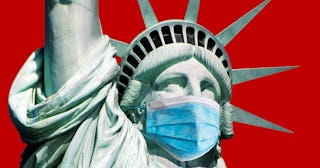 Anton Petrus/Getty
COVID-19 cases could start trending downward as soon as March — but only if people wear masks, social distance, and get vaccinated as soon as they're eligible
COVID-19 vaccine programs are rolling out all over the world, offering a light at the end of the tunnel. In the U.S., especially, things are finally starting to feel hopeful again after we've been the epicenter of the global pandemic since last spring. The coronavirus has killed 1.7 million people worldwide, with more than 300,000 of those in the U.S. alone. Now that vaccines are here and being distributed, many are wondering just how long it's going to be before we have some semblance of normalcy back in our lives.
The short answer is that we don't really know. It will likely be a very long time before things look just like the did before the pandemic. But there's still reason to be hopeful, doctors say. With vaccinations underway, Bloomberg asked a doctor when COVID-19 cases might start to begin to decline, and he said it's possible that could happen as soon as March.
"I'm wondering when we'll start to see a decline in cases," Bloomberg's Tim Stenovec said. "I don't want to call this a third wave, because it's felt like we've been in this spike for such a long time, but when will we start to see daily cases decline, daily deaths start to decline, and hospitalizations start to decline?"
His guest was Dr. Gabor Kelen of Johns Hopkins University. Johns Hopkins has done some of the most important public health work in the world during the pandemic, including creating a dashboard that pulls health data and tracks COVID-19 cases around the world by country, city, and more.
"Most of the modeling shows that we're on an upward trajectory deep into January — probably peaking late January or early February with a decline in the early or mid part of February, into early March," Dr. Kelen explained. "So if people do what they're supposed to do and wear masks, keep their distance, if they're eligible for vaccination, get it, then we're probably going to see some serious relief toward March — the end of March."
Moderna CEO Stéphane Bancel warned that the new vaccine wasn't a "silver bullet" and that social distancing measures and masking would still be required to keep case levels down. Of course, we have reason to be concerned if masking needs to continue, because we know there are plenty of people in this country throwing tantrums over having to wear one.
That's why it's important to reiterate that Dr. Kelen didn't say we'd see relief from COVID cases in March no matter what — it will only happen if people make the right choices and do their part to help slow the virus's spread. That means masks, social distancing, and vaccines. If we all work together, there could actually be an end in sight. Now let's do it.