Researchers Explain Why COVID Vaccine Doses Are Different For Young Kids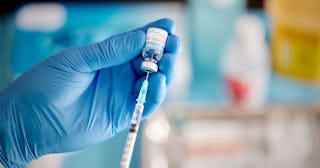 Morsa Images/Getty
The COVID vaccine has been rolled out in waves as pharmaceutical companies test different doses for different age groups
Depending on where you live and exactly how old you are, if you're an adult, chances are you were eligible to get vaccinated against COVID months ago. Most states in the U.S. opened up vaccines to anyone over 18 starting in around April. Then, children 12 and up started getting the shots in August. But parents of kids younger than that have been waiting this whole time — and possibly wondering what's taking so long. It's all about the different doses that each age group needs — and collecting lots of data and evidence to see what's safe.
Pfizer — the only vaccine maker currently seeking emergency authorization for a pediatric vaccine — said last month that its shot for 5-11 year olds was effective at a dose of 10 micrograms. That's just a third of the amount of vaccine adults get per shot, which is 30 micrograms. Both age groups need two separate doses spaced weeks apart to be fully vaccinated.
When kids 12 and up became eligible for vaccines in August, health officials immediately began warning impatient parents not to try and pull a fast one and bring their 11 and a half years in for shots. That's because the dosing does matter and it's not just about a child's size.
"While you may have an adult-size 10-year-old, that doesn't necessarily mean the immune system is adult-size," Dr. Frank Esper of Cleveland Clinic Children's Hospital told HuffPost. Esper says that while researchers "are taking into account the typical age-related weights and how the medicine will distribute through the body," it's far from the only factor when figuring out how a dosage for kids will work.
For the same reason, you don't want to sneak your 4 and half year old into a vaccine appointment intended for 5 years old when they become available sometime in November. Pfizer's vaccines for 2 to 5 years old could be even smaller, though that data has not yet been submitted for review. Shots for that age group aren't expected until early 2022. Esper says researchers "basically said all 5- to 11-year-olds got this dose — and we've made sure this dose is safe in 5 to 11-year-olds."
Pfizer tested 4,500 kids between 5 and 11 years old to arrive at the 10 microgram dose, and all that investigation and safety reviewing shouldn't be tossed aside over a parent's impatience — no matter how understandable it may be after more than a year and half of our lives being upended by the pandemic.
The FDA is planning to hold a hearing on October 26th on the emergency authorization process for the shot, so 5 to 11 year olds could start getting vaccinated within days of that meeting. For parents who have lost sleep over their kids safety throughout these long, hard months — the wait will have more than worth it.