1 In 8 People Will Skip Gifts For Those Who Don't Share Their Vaccine Opinion 
by Julie Scagell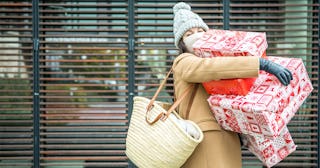 Coolpicture/Getty
1 in 8 say they won't be buying gifts for those who don't share their opinion on vaccines
At some point, the holidays will go back to family drama, gossip, and whispering about your aunt's dry mashed potatoes, but not this year. While many would like nothing more than finally getting back together as a family to share a meal and exchange stocking stuffers, COVID-19 vaccines are a topic that will, according to a recent survey, cause people to withhold gifts from other family members.
A new survey commissioned by CoinStar found one in eight Americans won't be shopping for family and friends who do not share the same COVID vaccine opinions as they do. As awkward as the holidays with extended family can be, this one may take the fruit cake.
The news isn't all bad, though. The survey also found nearly two in three Americans (64%) are excited to get together during the holiday season but plan to buy fewer gifts in general (in addition to the zero for those who don't share your vaccination views) because of COVID-related uncertainty with the market in general.
Unsurprisingly, 39 percent of the 2,007 polled can't afford to buy as many gifts as usual this year, which makes sense given how many lost their jobs or had to leave the workforce to care for kids and family.
Considering all the turmoil the pandemic brought about during these past years, it's also not surprising that about a third of those that responded say they're looking forward to the holidays more than in previous years. Many are planning on participating in holiday activities like baking holiday cookies (80%), hopping in the car to go look at holiday lights (77%), going to holiday parties (60%), doing some holiday decorating, (45%) and going caroling (32%).
It seems the pandemic has cemented the holidays as a season of giving. Nearly one-third of respondents (31%) say they will start donating money or their time to charity this holiday season as well as increase their giving (assuming those they are giving to share their vaccinations views, that is). Housekeepers, childcare providers, trash collectors, and mail carriers could be on the receiving end this year, with nearly three in five (57%) reporting that they plan to tip their service providers more this holiday season.
Vaccinations are a nice diversion from the typical family battles over politics, weddings, divorces, the inevitable "when are you having kids?" question, and other general and not-so-general digs and jabs coming from "concerned" family members. If you're going to be vocal with your vaccination opinion, just keep in mind you may not be getting a gift under the tree this year from certain folks who don't share it.