Kids Between 5 And 11 Can Finally Get Vaccinated — Parents Are Celebrating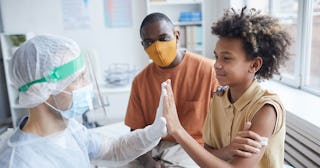 SeventyFour/Shutterstock
For parents of kids ages 5 to 11, the news that the COVID vaccine is finally available has brought most of us an overwhelming sense of relief. It has been a long road to get here, and many of us have been waiting patiently for this day to come. It hasn't been easy, as parents were forced to spend the last 20-ish months making hard decisions about how to navigate the world. Especially for those of us who are already vaccinated, and may have older kids who are vaccinated as well.
I have an eight-year-old son, and this all has been unbearable for him. Because of his asthma, we have definitely been more worried about how damaging it would be for him to catch COVID. Frankly, I've been low key terrified. When my partner and I got our COVID vaccine in April, he expressed sadness in not being able to get a shot too. And he hates getting shots.
Living in California, and more specifically Los Angeles, I actually felt really good about sending him to school in person. We did have a COVID scare about three weeks into the school year. One of his classmates tested positive, and the entire class had to quarantine for 10 days. It was stressful af, but we got through. Governor Newsom is really on top of COVID safety in schools, and that is reassuring. Not only was the mask mandate in place before school started, but weekly testing in school is mandatory. Every Tuesday, his entire school is tested. The kids are handed the materials and do it themselves. I've seen it, and my kiddo is a total pro at swabbing his own nose.
To say that I have been waiting on pins and needles for elementary school aged kids to be eligible for the COVID vaccine is an understatement. The last two weeks have been unbearable waiting to see just when it was all going to happen. I teared up seeing a friend's post that the CDC had approved the vaccine, and immediately went to our public health website to see if there was any information. There wasn't yet.
After seeing a friend post about getting COVID vaccines at Walgreens Wednesday morning, I decided to check. This friend was in New York, but I figured it wouldn't hurt. Within 10 minutes of checking, I had booked my son an appointment for Monday, November 8th. Tears sprang to my eyes. After more than a year and a half, I could finally truly see a way out of the woods. As the day progressed, my entire Facebook feed filled with friends sharing their joy and relief at being able to get our 5 to 11-year-olds vaccinated finally. I'm sharing just a handful of the sentiments they shared with me.
Early bird gets the COVID vaccine
"My boys (9, 5) have appointments Saturday, November 6th. I woke up in the middle of the night and couldn't sleep because I was so excited to get them on the schedule," Katie C.
"My kids (11, 10) have appointments tomorrow (November 4th) morning for their first dose," Roxanne S.
"I got up early to book appointments and to be honest started crying when the confirmation emails hit my inbox," Kirsten C., mom to two eligible daughters, 9 and 5.
Breathing a sigh of relief
"I'm extremely excited. My little one has been waiting and waiting for indoor playdates and I think kids, while they may be asymptomatic, are driving transmission more than we think. I was hoping to schedule through Kaiser but might just go with Rite Aid since they have them," Katryn B.
"After the last what feels like a millennia in the thick of this, I'm bursting with emotions from relief and thankful to somewhat dreading the immune responses. Being vaccinated super early and already getting my booster has had a lot of guilt that I can't protect my kids (9.5 and 6) the same way. I love that they proved they hear me babbling about science and healthcare and actually retained enough to put together why the vaccine would protect me and help ease their fears. This makes me feel like I'm finally able to arm them using our best science," Nik C. (also mom to a newly 12-year-old who just got his first shot.)
"We've been one of the most cautious families I've known from the start of the pandemic (my son (7) did not interact with any other children for roughly a year. We had no real support or close family/friends here and considering how ill he's gotten from the flu before, we didn't want to take chances). It feels surreal. I'm excited to venture even more into the world with him now, and to do a bit more traveling. We'll still wear our masks in crowds and indoors because we know it's not a full-proof thing, but that weight on our shoulders will be much lighter now," Priscilla B.
"My kids (9, 8) are signed up, and we're all visibly relieved to be getting protected even though they're terrified of needles!" Jennifer M.
Nothing but pure joy
"I scheduled appointments for my 7 and 10 year old first thing this morning, as soon as I saw that they were available. I can't wait for them to get vaccinated. We have been so, so careful, and I'm so relieved to have this added layer of protection. It has been an exhausting and stressful almost-2-years trying to keep my kids safe, and I want to jump up and down and scream now that we've finally made it to the point where they can get vaccinated. My kids are both nervous about the needle itself, but my 10-year-old cried when I told her it's finally time. She is so ready," Ashley A.
"Nothing but excitement here. I honestly feel like I could cry. One more step forward. Living in a state of utter anxiety for the past 20 months is absolutely exhausting. So ready for this.Cautiously optimistic at the same time, but this is a positive step forward," Emily, mom to a daughter, age 6.
Anxiously awaiting their turn
"I'm very excited to sign up my son. His pediatrician won't have the vaccine for another two weeks but I'm watching the FB page every day for updates and I'll be the first in line. He has type one diabetes, which means he's at risk for serious complications if he did get covid, so we've been waiting for this day. I couldn't be more relieved," Dana M.
"Excited but STRESSED. Our pediatrician is organizing drive thru clinics, and they're confident they have enough slots and shots for all their patients. But it's a regional collective of offices, and when they dropped the reg link yesterday hoo boy. I started out #6800 in line and have been waiting 24 hours so far for my number to be called. I feel like I can't look away or I'll miss the 10 minute window I get to sign up when my number is called. So it's this orderly system to make sure they get everyone in without crashing the website, but at the same time it still feels like the hunger games for shot," Jackie R., mom to a daughter, age 9.
Right now, we all know that we're not 100 percent out of the woods with COVID. But for those of us whose kids are finally eligible for the COVID vaccine, it feels like the light at the end of the longest and darkest tunnel of our (and our kids) lives. And I know that we're all very ready to breathe a little easier.