U.S. Promised 20 Million Vaccinations By Year-End And It's Not Happening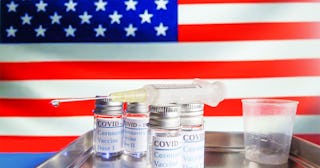 japatino/Getty
U.S. falling behind on projected vaccine doses for end of 2020
The U.S. began its COVID-19 vaccination plan on December 13, 2020 and the good news is that at more than 2 million shots administered, the U.S. has vaccinated more people than any other country. The bad news, however, is that we're extremely short on the U.S.'s goal of vaccinating 20 million people by the end of 2020. It's starting to seem like promising 20 million shots by end of 2020 was more of a marketing ploy as "20 by 2020" has a nice ring to it, because it's currently December 29, 2020 and it's literally impossible to vaccinate 18 million more people in the next two days.
According to the CDC's COVID-19 vaccine tracker, the U.S. has distributed 11,445,175 doses to the states, but so far, only 2,127,143 people have actually been vaccinated with the COVID-19 vaccine. Both of these number pale in comparison to the 20 million people that Operation Warp Speed promised to inject by the end of the year (via CNBC).
Apparently Operation Warp Speed claims it never promised to vaccinate 20 million humans by year-end, just that they would "deliver" enough doses to cover 20 million people by year-end. However, at almost 12 million delivered doses, they haven't even made good on that promise either and now officials at Operation Warp Speed seem to flip-flop on the timeline.
"We do still feel strongly that we will have allocated to the states by the end of the year 20 million doses of vaccine that'll be available," General Gustave Perna, Operation Warp Speed's chief operating officer told CNN last week, but then seemingly contradicted himself when he added. "We feel confident that we will be distributing the end part of that vaccine no later than the first week in January for everybody to have access to."
Perna also took full responsibility for the slow rollout at a press briefing (via CNBC) and said that the reason for the delay is because he did "not understanding with exactness…all the steps that have to occur to make sure the vaccine is releasable."
One of those steps is a two-day U.S. Food and Drug Administration inspection of each shipment of vaccine for quality control that has slowed down distribution. You would think that the person overseeing Operation Warp Speed would know this, but then again — this is the administration that all got infected with COVID-19, so this feels on-brand for America.
Anecdotally, many nurses and healthcare workers — who were supposed to be first in line for the vaccine — are posting on social media that they still haven't been vaccinated or aren't scheduled to receive their shot until January.
https://twitter.com/jetpack/status/1341099244560642049
https://twitter.com/jetpack/status/1343993991289835525
"[The U.S. is] below where we want to be," White House coronavirus advisor Dr. Anthony Fauci told CNN's "New Day" today, though he's optimistic that we can "catch up" in January.
"I believe that as we get into January, we are going to see an increase in the momentum," Fauci said, adding that he hopes that push will be enough to "catch up to the projected pace that we had spoken about a month or two ago."
At this point, projecting any sort of vaccine time is a bit haphazard. Depending on what expert you ask, the general public will finally be able to get their vaccine anywhere from February 2021 to October 2021, so if you're in the businesses of managing expectations, maybe just have none and be pleasantly surprised when your local pharmacy announces they're finally offering the vaccine.
This article was originally published on