It's Time To Up Your Safety Game Again––Here's How
by Clint Edwards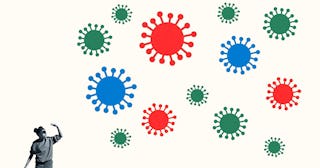 Scary Mommy and Klaus Vedfelt/Getty
I can't be alone in this statement, so here it is: all the talk of the new COVID variants is making me anxious. Going into 2021, with the promise of a new and effective vaccine made me feel like there might just be a light at the end of the tunnel with COVID-19. But then — BAM — the U.K. went on another lockdown, and suddenly we were all reading about how this new flavor of COVID was more infectious, and we needed to begin pumping the brakes on our optimism. No doubt about it, 2020 was a hard year, and 2021 seems to be shaping up to be a whopper as well.
Not only that, but we are hearing about other concerning variants — from South Africa and Brazil — that will likely make their way to the U.S. in no time. In fact, the variant from Brazil was detected in Minnesota this week. And just yesterday, the South African variant was found in South Carolina. All of this is enough to send many of us into a full-blown panic.
Panic is understandable — this pandemic has been going on for a year, and we are all seriously stressed out. But that doesn't mean we are totally powerless here. There are things we can all do to keep ourselves safe (or safer), even with these scary new variants circulating.
Aeronautical Engineering professor Suresh Dhaniyala, and Byron Erath, an Associate Professor of Mechanical Engineering, published a pretty interesting list in Oregon Live recently about how to stay safe with the COVID-19 B.1.1.7 variant floating around the U.S. right now. These two have spent their professional lives studying fluid dynamics and aerosols, and their recommendations look a lot like doubling down on the safety precautions we've been living with since March of 2020.
The real issue, according Dhaniyala and Erath is that the B.1.1.7 variant has a higher viral load than the standard COVID-19, meaning that when people cough, or sneeze, or speak while infected, they release more virus into the air. This is ultimately what makes this variant 50% more contagious. Thus, making sure that you have a good mask (that fits properly!), is becoming more and more important.
They suggest the N95 mask that is used by medical professionals. This is the mask that was in short supply early on in the pandemic. But a cloth mask can work if it has multiple layers. Here's a quote from Dhaniyala and Erath on what you should be looking for, "Ideally, the material should be a tight weave. High thread count cotton sheets are an example. Proper fit is also crucial, as gaps around the nose and mouth can decrease the effectiveness by 50%." Experts are also recommending "double masking" — wearing a heavy duty mask like an N95 or K95, with a cloth mask on top for added protection.
Additionally, controlling your environment is huge. Social distancing is a must, and only going indoors if the building has proper venation. Right now, the guideline from the CDC is to stay 6 feet apart, but Dhaniyala and Erath are saying that with this new variant, 6 feet might not be enough. In general, limiting gatherings (especially indoors) is more important now than ever.
Many experts are also suggesting that you limit your trips to the grocery store as well. And for most people, this really is one of their few outings. Dr. Tom Frieden, the former director of the Centers for Disease Control and Prevention, took to Twitter last week with this suggestion: "Minimize time spent indoors around others. Shopping for five minutes in the grocery store is a lot better — six times better — than shopping for 30 minutes. Curbside pickup and grocery delivery if feasible/accessible."
And to be honest, grocery store pickup is pretty universal right now. Most stores are doing it with no additional cost. And getting a grocery store pick up not only helps limit the exposure to yourself and customers, but also to grocery store employees who have frankly been taking the front line brunt of the virus for almost a year now. The fewer people going into the store, the better.
But above all, the best thing anyone can do right now to stop the impact of COVID-19 and the new variants is to get vaccinated. And yes, not everyone has access to the vaccine. But if you are lucky enough to be offered the two required doses, do not pass it up, and here's why.
The goal right now is getting a lid on the virus before it can mutate further. Anthony Fauci, director of the National Institute of Allergy and Infectious Diseases, gave this warning recently, "We need to double down on public health measures. The less a virus spreads, the less it's going to mutate. We need to get as many people vaccinated with the current vaccine that we have as we possibly can … and prepare for the potential eventuality that we might have to update this vaccine sometime in the future."
According to Fauci, we will need to get close to a 90% vaccination rate to reach herd immunity. And ultimately, that is the overall goal so we can get lives back to some form of normalcy. But with the new variants, getting enough people vaccinated is now a race against time before the virus becomes immune to the vaccine. So my friends, do your part. Take the precautions above, and my goodness, if you are offered the vaccine, take it.
Information about COVID-19 is rapidly changing, and Scary Mommy is committed to providing the most recent data in our coverage. With news being updated so frequently, some of the information in this story may have changed after publication. For this reason, we are encouraging readers to use online resources from local public health departments, the Centers for Disease Control, and the World Health Organization to remain as informed as possible.