Cowboy Museum's Head Of Security Runs Their Twitter Account And It's Delightful
by Madison Vanderberg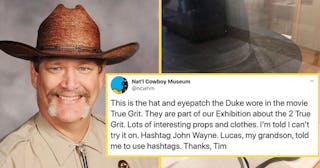 Nat'l Cowboy Museum/Twitter
Tim from The Cowboy museum in Oklahoma becomes unlikely social media influencer during coronavirus pandemic
The coronavirus pandemic has cost many people their jobs and others are looking for ways to pivot their work to new work-from-home positions and for one security guard at the National Cowboy & Western Heritage Museum in Oklahoma City, Oklahoma, his new remote job turned him into an unlikely and overnight influencer.
With the museum closed, The Cowboy's head of security was left with nothing to do, so Tim switched to running the museum's social media channels and it's the greatest decision they could have ever made.
"Hello Friends, my name is Tim and I am the head of security for The Cowboy," Tim wrote in an Instagram post. "I have been asked to take on the additional duty of social media management while the museum is closed. I'm new to social media but excited to share what I am told is called 'content' on all of The Cowboy's what I am told are 'platforms' including the Twitter, the Facebook, and the Instagram…Thanks, Tim We are required to smile in our official photos. Send."
Where do we start? Putting "content" in quotes. Writing "send." The man posted a single photo and already he's a wholesome legend.
Tim took over the museum's social media channels on March 17, 2020 after getting "roped into it" and since then he's been giving virtual photo tours of the museums and writing gems like "Hashtag John Wayne. Lucas, my grandson, told me to use hashtags," and "Realize I have been doing the hashtags wrong. I need to use that pound sign from the phone. I'm learning!"
His museum tours are informational and fun, but it's his little social media asides that have captured a huge audience.
We love the evolution from writing "hashtag John Wayne" to "#HashtagJohnWayne." Also, he thought a "Tick Tock" meant that he should post a photo of a clock. What a pure soul.
Tim's honest tweets have become a pleasant respite from the chaos all around us.
https://twitter.com/jetpack/status/1242579983543029761
Who knew that watching a guy named Tim from Oklahoma figure out social media in real time would be the highlight of our days, but here we are. #HashtagThankYouTim.
This article was originally published on