These Are The Coziest Fall Sweaters On Amazon Right Now
by Cassandra Stone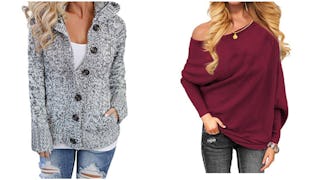 Image via Amazon
Say it with us: SWEATER WEATHER
While saying goodbye to summer isn't always easy, one of the *best* things about fall is hands-down the sweater weather that accompanies it. Because who can't get behind tossing on a cozy, universally flattering, just-slap-it-with-some-jeans-and-boots sweater?
Whether you're heading out and about or just hanging at home, these sweaters go great with your favorite jeans or leggings.
[Author's note: all of these Amazon models are incredibly thin, white, and blonde and yeah…that's weird. But the sweaters come in a variety of sizes — and for what it's worth this author is a size 16 and would wear any one of these babies.]
Big buttons? Check. Cozy cable-knit? Check. Looks great with jeans and boots or with leggings and socks? Check and check. I will buy one of these in every color and will wear them anywhere from the grocery store to date night, or as a pseudo robe over my cute flannel jammies. Also? THAT HOOD. Nothing cozier than that right there. It runs in sizes S-XXL.
This sweater says "Yes, I'm following the trending, off-the-shoulder look without appearing as though I took lawn shears to the shoulders of my sweater. It's slouchy but cute, and can look dressed up while hiding any evidence of the enormous dinner you consume on kid-free nights — because you can. It comes in a variety of colors as well as sizes S-XL.
It's poncho season, sorry not sorry. And I don't know about you, but donning one of these makes me feel like I'm as put together as Miranda Priestly without being half as uncomfortable. And this one is an actual sweater to boot! It takes zero effort to look good while wearing this, and that's what's so great about it. You can get it in sizes S-XL and nope, it's not just for Norweigan models!
Can you tell cozy cable-knits are all the rage right now (and should really surpass any span of time or trend)? This one comes in eight colors, but my love affair with olive green runs deep. It also runs in sizes 4-20, which is awesome. Another bonus point: it appears to provide sufficient ass-coverage, if that's your thing. (Hi, it's my thing.)
This backless number is another snazzy day/evening out kinda sweater, while also maintaining every ounce of comfy coziness a sweater can provide. It comes in four different colors and it's basically calling your name right now. I know what you're thinking and honestly, screw the bra — it's a sweater! No one's looking at your nips anyway. Or play it safe and wear a cami/bra combo underneath. Oh! And it's available in sizes 4-16. Versatility, man — speaking of which, can Amazon please employ, like, a brunette or something for these ads? Sheesh.
Confession: I have owned a similar sleeveless cardigan for, oh, about eight years. And I wear it all the damn time. In the summer, when I'm feeling flowy (not, like, light and airy — but when I'm literally hosting Aunt Flow and prefer loose, bloat-covering fabrics), and during fall and winter overtop a long-sleeved shirt. I love mine so hard, but I might have to retire it for this younger model. It's just so…fall-y.
Crew-neck sweaters are as classic as Audrey Hepburn and black flats. This adorable sweater comes in four colors and the size ranges from S-XXL. Wearing it can serve as your personal way of spreading a little love out in the universe.
Now if you'll excuse me, I'll be filling up my Amazon cart with as many of these as I can, because:
This article was originally published on