Cozy Gifts That You'll Want For Yourself Too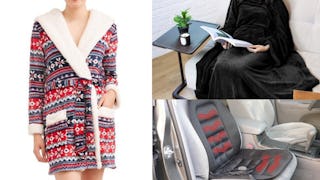 Images via Walmart
'Tis the season to be cozy, warm, and wrap ourselves in blankets until April.
I look forward to winter every year because it gives me a good excuse to cancel plans and get comfy with a good book and a hot cup of cocoa instead: "Wish I could make it but I think the kids might be coming down with something, cough cough." It's funny how no one asks questions after that.
So here are some amazing gifts for getting warm and cozy that you'll want for yourself, too:
A Premium Fleece Blanket with Sleeves is perfect for anyone who wishes hibernation was a thing for humans.
This Electric Fleece Blanket is another excellent investment for anyone who likes some extra warmth during the coldest months. And they're on sale for as low as $29.98. (Originally $69.99!)
This Wrap Robe is super comfy, with a fleece-lined hood, and is a great present for anyone who hates pants.
These 12-volt Heated Car Seat Cushions can literally save you from freezing your butts off during the winter. And they're on sale for $20.49. (Originally $32.38!)
This Heated Car Blanket is a must-have for long road trips but is great for warming up on any cold morning.
This set includes four pairs of Lavender-Infused Fuzzy Socks. They're non-slip and designed to help you relax — and only $8!
This Soft Sherpa Blanket comes in a variety of patterns, makes a great gift for any occasion, and is currently on sale for $30.99-$39.99. (Originally $49.99!)
A USB Cup Warmer is a must-have for busy moms who don't have time to finish their coffee before it gets cold.
This Electric Space Heater is great for anyone who needs to warm up more than just their coffee. It adds some comfy warmth to any room and is currently on sale for $49.00. (Originally $69.94!)
Who doesn't love a Super Soft Fluffy Blanket? It's a gift that everyone will love. And this one's 50% off right now, so you can get an extra for yourself.
These Muk Luks Slipper Booties will keep your toes warm and toasty, and they have a durable sole to help keep feet safe from the tiny toys left all over your floor.
This Heated Microplush Blanket is perfect for warming up with. It has three heat settings and is currently on sale for $28.96. (Originally $49.99!)
The Plush Blanket Hoodie is perfect whether you're indoors, outdoors, or dropping your kids off at school while pretending you aren't wearing the same thing as yesterday.
Yes, Caticorn Slippers. They're part cat, part unicorn, and 100% cozy. And they're on sale for $14.95. (Originally $25.00!)
This Flannel Sheet Set will keep your bed warm through the coldest months of the year, and give you another reason to wish you could stay in bed all day.
This Plush Blanket With Foot Pocket makes sure your toes will never be cold. And their spouse who they usually warm their toes on will thank you.
This Faux-Fur Lined Puffer Jacket is a great gift for anyone who has to venture out into the cold. They come in different colors and are currently on sale for $24.99-$25.99. (Originally $54.95!)
This 3-Piece Cable Knit Set is another must-have. It includes an infinity scarf, hat, and fingerless gloves and is on sale for $19.99. (Originally $39.99!)
The weather outside is frightful but your friends and fam will be cozy and warm with these gifts. And you'll be happy to buy some for yourself, too. After all, it's not just a matter of want but a matter of need. Happy hibernating!
We are a participant in the Walmart.com Affiliate Program and may earn fees by linking to Walmart.com and affiliated sites.
This article was originally published on