Resurfaced Clip Of Craig Ferguson Refusing To Mock Britney Spears Goes Viral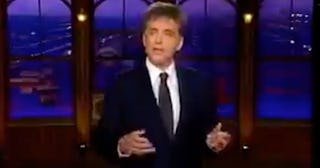 BritneyHiatus/Twitter
Craig Ferguson was one of the very few voices showing support for Britney Spears back in 2007
The entire world seems to be collectively looking back on the treatment of a young Britney Spears through a much more mature adult lens. The perspective toward misogyny, in general, has dramatically shifted since the early 2000s (though it will likely never shift far enough toward equality), and it's startling to revisit just how bad things were via the new documentary, Framing Britney Spears. Former late-night host Craig Ferguson, however, seemed to be leagues beyond most people at that time, and a clip of his show from 2007 is now going viral because of that.
In the clip aired just four days after Spears' shaved her head following her breakdown and personal strife that played out very publicly, thanks to intrusive and abusive paparazzi. Ferguson is delivering a monologue for his CBS Late Late Show.
He talks about "punching down" in comedy, which is where comedians take cheap shots at the expense of people who are marginalized politically, socially, or economically. It's low-hanging fruit in comedy, and the early 2000s were rife with it when it came to famous women — particularly pop stars like Britney Spears and Jessica Simpson. Ferguson highlighted the "punching down" concept and his discomfort with observing it in the monologue.
"I kind of had similar feelings when I used to watch America's Funniest Home Videos. You'd be laughing at the kid falling over, and then you'd go, 'Wait a minute, put down the damn camera and help your kid!'" he explains. "I think we're kind of holding the camera, and people are falling apart. People are dying. That Anna Nicole Smith, she died."
At this point in the clip, you can hear the audience laughing at Smith's expense. (Side note: if you haven't listened to the You're Wrong About podcast yet, run, don't walk, to the Anna Nicole Smith episode first.) Ferguson simply isn't having it. He highlights the fact that at the time, Spears was just 25 years old and the mother of two children.
"No, it's not a joke. It stops being funny," he says. "I'm starting to feel uncomfortable about making fun of these people," he says. "For me, comedy should have a sentiment of joy in it. It should be about artists attacking the powerful people. Attacking the politicians, and the Trumps, and the blowhards. Go after them. We shouldn't be attacking vulnerable people. This is totally a mea culpa; this is just for me. I think my aim's been off a bit, recently. I want to change it a bit. So tonight, no Britney Spears jokes."
The old clip has resurfaced in light of the Britney documentary, and the entire internet is cheering Ferguson on 14 years after sticking up for her when no one else was.
https://twitter.com/jetpack/status/1358955446862819332https://twitter.com/jetpack/status/1359007023061471232
https://twitter.com/jetpack/status/1358976710784413699
In Framing Britney Spears, the documentary explores the last 12 years of the conservatorship of Britney Spears, where her father Jamie Spears has been her legal guardian and financial conservator. Britney recently asked the courts to finally remove her father from her conservatorship last fall, saying she was reportedly afraid of him and asked the court to appoint a neutral third party as her conservator, and sadly, the court denied Britney's request.
The #FreeBritney movement isn't going away anytime soon, at least. And honestly, in addition to Chris Crocker (of "Leave Britney alone" fame) of course, Craig Ferguson may have helped pioneer it.