My Family Gave Me A Crappy Father's Day Gift, And This Is What Happened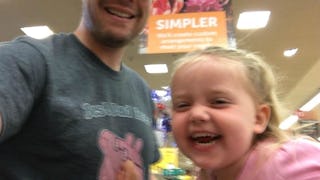 Clint Edwards
I've gotten some stupid gifts from my kids over the years. One year, for Father's Day, my son gave me a poop emoji pillow. It's now on his bed. Once, for my birthday, my middle daughter gave me a bag of peanut butter cups, her favorite candy. She ate all of them, without shame. Yesterday my four-year-old asked me if I wanted a Peppa Pig cake or a Pokémon cake for my next birthday. Obviously, she knows me about as good as she knows herself, if you get what I'm saying.
I've been given so many gifts that aren't actually for me it's hard to tell the difference between a holiday and a normal day, especially considering that most everything I do these days is devoted to my children.
My children are still pretty young, I suppose. Perhaps they will get better at this gift-giving thing, but honestly, I doubt it. I still suck at it. My father isn't alive anymore, but when it comes to getting my mother a gift, I just send cash because I cannot, for the life of me, figure out what she would like. I might as well be her uncle.
But hey, that's kids, right? It's their job to kinda suck at giving gifts, and it's my job to help them figure out how to do it right. Particularly before they get married.
But, I must admit, last year for Father's Day, my kids kind of threw me for a loop. They got me a T-shirt with Daddy Pig (Peppa Pig's father) with the caption "Best Dad Ever." And I'll be honest, I groaned a bit after opening it. Ironically, that same year I wrote an article for Scary Mommy with a list of four things I really wanted for Father's Day: (1) sex (with my wife, of course), (2) pizza and Netflix, (3) a nap, and (4) time spent on a hobby.
I knew my wife had read the list, so I was expecting some time on my bike and some pizza. Instead, I ended up with a T-shirt with a character from my daughter's favorite TV show. Obviously, this wasn't a gift for me.
But then the wildest thing happened.
Every time I wore that shirt, my daughter hugged me. She'd snuggle her head into my chest and says, "Daddy Pig." Or she'd scream, run to me, and tug at my shirt so I'd bend down and pick her up. Or she'd let out this deep contagious laugh that made me feel all warm inside.
I mean, don't get me wrong, I look like a four alarm nerdy father walking around the grocery store in this thing. But the way Aspen looks at me when I wear it, the way she insists on holding my hand, makes it the most fashionable thing I own. It makes this shirt the best gift I've ever received. It's been a full year, and I'm still wearing it regularly. She is a year older, and she still loves it.
In fact, last month we got my wife a similar shirt for Mother's Day. It has a picture of Mommy Pig on it with the caption, "Mommy." When Mel opened the package, she groaned. She rolled her eyes a bit, and forced a smile, same as I did on Father's Day the year before. But one Sunday afternoon, she wore the shirt and Aspen flipped. She asked for a hug. She giggled. Then she ran into her room and put on her Peppa Pig shirt. I got into the mood as well, and changed into mine. We all went to the park, a family of Peppa Pig fans, which Aspen clearly thought it was the best thing that had ever happened. She was so proud.
Her reaction was so contagious that Mel and I couldn't help but smile. I felt that warmth I always feel when wearing that stupid shirt, and just looking at Mel, I could tell she did too. And when I think about that, I realize that maybe I was wrong to think otherwise. Perhaps my kids know more about this whole gift-giving thing than I realized.
This article was originally published on