Parents, Give Your Teens This Crisis Text Line Number
by Jerriann Sullivan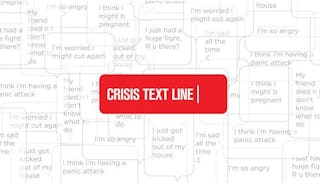 Teens receive crucial help via crisis text line
A mental health text line is helping teens receive counseling and support when they need it most in an easy and anonymous way. Parents always want to be there for their kids, whether they're feeling depressed, anxious, or are in the midst of a crisis, but sometimes teens need help from someone that isn't mom or dad. And they can get it from trained counselors for free via the Crisis Text Line.
The line is a mental health support nonprofit focused on helping people in a modern way – via text messages. The organization targets teens living in the U.S. but is available to anyone with a cell phone. Users have exchanged nearly 7.5 million texts with counselors since the line launched in August 2013. "We get a lot of people in the heat of the moment, when they are about to get really angry, or they're about to have a panic attack, or they're about to have a bulimic episode," former DoSomething.org CEO Nancy Lublin told Mashable.
The line began at DoSomething.org before becoming its own nonprofit. The social change organization received a jarring text in 2011 that showed Lublin there was an extreme need for a mobile platform that helped teens. At the time, kids often texted DoSomething.org about issues that didn't necessarily relate to the nonprofit's work. One day a girl reached out saying her father wouldn't stop raping her. "We realized with that message that it was time to create counseling based around texting," she explained. "So we built it."
Years later she hasn't heard from the girl again despite trying to contact her to offer help. The child's horrific circumstances motivated her to reach as many teens as possible using Crisis Text Line. "I want her to know that her courage inspired this whole thing. Thanks to her, we are saving a lot of other people," Lublin shared. "She started all of this." The organization now has 1,500 counselors across the U.S. who undergo intensive mental-health training to help caller's move from a heated moment to a calmer state.
[shareable_quote]"People are sitting in a cafeteria or a Starbucks and you think they are texting their mom. But they are actually texting us."[/shareable_quote]
The mental health text line has proved to be a successful way to reach kids. "Nearly three-quarters of teens have or have access to a smartphone and 30% have a basic phone, while just 12% of teens 13 to 17 say they have no cell phone of any type," the Pew Research Center wrote in a recent study. They often want to chat about bullying, sexuality, and substance abuse issues when they reach out. But about eight times a day counselors have to work with EMTs or police to provide help in more life-threatening situations like someone considering suicide.
Despite involving police or paramedics in the most dangerous circumstances, the texts between users and the Crisis Text Line staff remain anonymous. Counselors communicate with people using an encrypted, secure site on their personal computers that prevent them from seeing the callers' numbers. "We have a special relationship with all the major mobile carriers, where you aren't charged a fee, we aren't charged a fee and it doesn't even show up on your bill," Lublin said. "It's like you never even texted us."
Communicating via text also helps teens feel anonymous because they can reach out to counselors without others knowing. Onlookers can easily assume the caller is looking at new filters on Snapchat or playing Candy Crush. "We tend to get a lot of texts every day around lunchtime," Lublin added. "People are sitting in a cafeteria or a Starbucks and you think they are texting their mom. But they are actually texting us." My incredible guidance counselor was my confidant during the teen years, but this text line would have helped me and countless others. We have to make sure our teens have every possible form of help available to them.
To learn more about Crisis Text Line or to apply to be a counselor, visit their site here. If you need to talk to someone or are experiencing suicidal thoughts, text Crisis Text Line at 741-741 or call the National Suicide Prevention Lifeline at 1-800-273-8255.
This article was originally published on