Football Player Stops A Rape And This Should Be The Rule, Not The Exception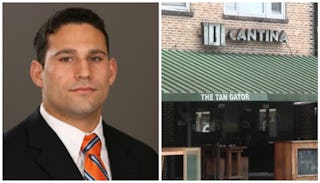 Image via CBS News
He thought the couple were fooling around but quickly realized that wasn't the case
Over the weekend, a football player at the University of Florida spotted what he thought was a woman and her boyfriend making out behind a bar he worked at, but when he realized the woman was unconscious, he stepped into action and saved her from being assaulted and raped.
According to The Washington Post, Cristian Garcia was working security at the bar early Saturday morning when he saw a man pressing a woman up against a dumpster. He initially thought it was a drunk couple having fun, but when he noticed she was unconscious, the linebacker knew something was wrong.
"I mean, at that point, I'm like, this isn't right," Garcia told CBS affiliate WFOR-TV. "This girl is probably drunk, there's no possible way she could've given consent."
I think I speak for everyone else when I say, "No shit, Sherlock!" Well, not everyone else, since the attempted rapist was apparently accompanied by friends who did nothing to stop him.
"They were there on the other side of the dumpster," he said. "Maybe they didn't see it, I can't say 100 percent, but they were there." Which honestly doesn't surprise me. Not anymore.
The suspect, 34-year-old Christopher Shaw, was caught on video attacking his victim, who police say was definitely intoxicated and unable to give consent. Police also say Shaw may have raped other women as well.
In a world in which there seems to be no shortage of stories about rapists who succeed and escape accountability, this account is, sadly, surprising. Especially when college students are involved. Especially when athletes are involved. Especially when women are involved.
Thankfully, there are still some men out there who were raised right. Just like the two Swedes who stepped in to save Stanford student Brock Turner's victim from being violated even further than she already had been, Cristian Garcia is a hero. According to his cousin Zach Shabbel, Cristian has always been a good egg.
"He's a stand-up guy," he said. "You know, always been that way since we were babies. Like, if we'd ever get into some type of trouble, he'd always be the first one to step out and speak. He's always been vocal. I'm not honestly surprised."
The statement above, in which a family member praises Cristian's character, is reminiscent of the statements Turner's friends and family made on his behalf during his trial. It's a shame that that's what this story brings to mind. It's a shame that I wonder what would have happened, or might happen at trial, if the white athlete had been the one accused of a crime.
Thankfully, there is video of this assault that according to the police report, directly contradicts Shaw's attempt to deny his crime. And thankfully, there are people like Cristian Garcia around, in the right place at the right time, to remind us that the world isn't all bad.
This article was originally published on