11-Year-Old Texas Boy Dies From Frigid Temperatures And No Electricity
by Julie Scagell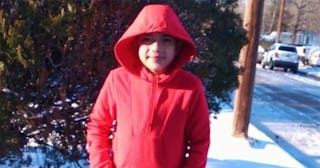 Jaliza Yera/GofundMe
People have rallied to raise more than $35K for 11-year-old Cristian Pavon
A Texas boy was found dead on Tuesday after a winter storm left hundreds of thousands without power as temperatures dropped in the single digits. Cristian Pavon was 11 years old.
Cristian excitedly played in the snow the day before his death, his mother Maria Elisa Pineda told Univision. He came inside, ate dinner and went to bed under a pile of blankets with his 3-year-old stepbrother in their unheated mobile home in Conroe, about 40 miles from Houston.
"He was OK," Pineda said. "He had dinner, he played and he went to bed."
At some point during the night, Cristian's stepfather checked on the kids. According to his aunt, Jaliza Yera, they were still responsive.
"He made sure they were OK," Yera told KTRK. "They were still breathing. He covered them up, patted them and went back to sleep." When they went to wake him the next day, he was dead.
According to the GoFundMe set up by Yera, "This family went without electricity for two days. The early morning of Feb. 16 dropped to 12 degrees. Cristian was found lifeless."
The Electric Reliability Council of Texas, which manages most of the state power grid, said Thursday morning it had "made significant progress overnight restoring customer power, although some outages still remain throughout the state." But that wasn't enough to save at least 47 people, including Cristian, who've died since the storm began.
Cristian is the youngest to die since Sunday, according to the Washington Post. So far, at least 47 people have died in the frigid weather, a figure authorities say will likely increase as temperatures continue and people are left without heat or water. Some have died of carbon monoxide poisoning and others, like a 75-year-old man in Crosby, Carrol Anderson, who died after his oxygen machine stopped working after his home lost power. Many others have died of hypothermia.
Adding to the crisis, overwhelmed water systems caused by frozen pipes has left 14.6 million Texans, nearly half the state's population, under a boil-water advisory Thursday, according to Executive Director for the Texas Commission on Environmental Quality Toby Baker. More than 1,225 water supply systems are impacted.
"I'm heartbroken, I had never imagined any of this was going to happen," Yera told KTRK. "We still did CPR until the fire department came and they took over and within a minute they told us it was too late. It was hard because I have kids myself."
For now, the family is raising money to repatriate his body to Honduras via the aforementioned GoFundMe. Honduras is where Cristian was born and where he said he hoped to eventually be reunited with his grandparents. Since launching the GoFundMe, they've well exceed their $5,000 goal, raising more than $35,000.