Cruise Ship Reroutes Trip To Deliver Food To Bahamas After Hurricane Dorian
by Madison Vanderberg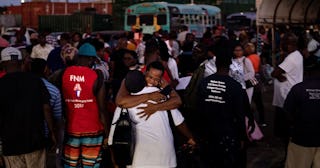 BRENDAN SMIALOWSKI / Getty
Cruise ship and guests deliver meals to displaced Bahamians after Hurricane Dorian
The Bahamas has long been a favored destination for cruise enthusiasts, so when Hurricane Dorian wreaked havoc in the northern Bahamas, one cruise line knew it had to do something to help. Several days ago, Royal Caribbean pledged $1 million in Dorian disaster relief, and today they made good on their promise. One of their ships — the Celebrity Equinox — set sail for Freeport on Grand Bahama Island to provide relief for displaced Bahamians after the storm.
NBC News reported that cruise staff worked all night to prepare more than 10,000 meals and hundreds of cruise ship guests helped to pack the food which was sent to the island via lifeboats and tug boats. The ship also handed out more than 300,000 bottles of water and the company hopes to park a stationary kitchen on land to keep making meals in the Bahamas.
"The Bahamas hold a special place in our hearts as a treasured place for our guests, and home to more than 500 of our colleagues," the cruise line explained in a letter. "Now, in the aftermath of Hurricane Dorian, we are rolling up our sleeves to help our friends."
The cruise line promised to compensate guests for the unexpected detour, but most seemed more than happy to help.
"If we can go and give meals, that's the least that we can do," one guest told NBC News. "Surely it's great to be in the Bahamas, but what we're doing for these people — their whole lives, everything they've ever had is gone," she added.
This cruise ship's actions are more than just a kind gesture, it's a necessary one. Bahamian officials told CNN that the hurricane has damaged roads, government vehicles, and ambulances — making it nearly impossible to provide relief and aid on the island. NPR reports that in Great Abaco Island — which faced the most damage — there is no running water, no electricity, and stores are running out of food.
Royal Carribean also sent their Symphony of the Seas ship to the island with tens of thousands of hot meals as well. Other cruise lines owned by The Walt Disney Co. and Carnival Corp., told NBC News that they would donate money or supplies too.
Hurricane Dorian has destroyed lives, homes, and entire communities — but the one bright spot in all this tragedy is that is hasn't ruined our humanity.