Cruise Industry Says It's 'Safest Vacation Available' As More Passengers Get COVID-19
by Erica Gerald Mason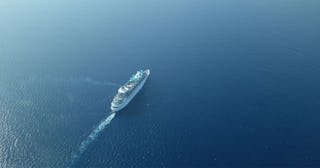 Daniel Piraino/EyeEm/Getty
Summer 2021 marks a surge in travel as reservations for cruise ships approach pre-pandemic numbers
Traveling, brought to a halt due to the pandemic, is starting to see a bump in numbers. Airline, hotel, and rental car reservations buzz as consumers, eager to stretch their wanderlust wings, book travel after a year of sheltering in place. At the beginning of the pandemic, cruise ships were one of the first industries to shut down, amid concerns of spreading coronavirus among passengers and crew alike and now that they're back, the cruise industry wants us to believe it's the "safest vacation available," but is it though?
Let's not forget, as the world re-opens, that we're still fighting a pandemic.
Insider just reported this weekend that two passengers aboard a simulated Royal Caribbean cruise sailing from the Bahamas have tested positive for COVID-19.
The passengers were traveling on Royal Caribbean's Adventure of the Seas, which requires passengers over 16 to be vaccinated. The two passengers, both under 16 years old, were unvaccinated, and tested positive during "routine testing that is required before returning home," the spokesperson said. One Twitter user was incredulous that an adult would take an unvaccinated child on a cruise in the first place.
Upon receiving a positive result, each passenger was placed under quarantine. According to a spokesperson for Royal Caribbean, one of the patients exhibits no symptoms, while the other exhibits "mild symptoms." Each of the passengers in their group and their "close contacts" has been vaccinated and tested negative for the virus.
Also, this isn't the first instance of COVID-19 aboard a cruise ship. Two people aboard a cruise ship earlier this month also tested positive for COVID-19, despite reportedly being vaccinated. Plus, another Royal Caribbean cruise had to postpone its inaugural passage after eight crew members contracted COVID.
That being said, COVID-19 infections are inevitable, and cruise companies say they are putting health and safety regulations in place onboard ships to keep passengers healthy.
As CNN Travel reports, ships are operating at reduced capacity, have expanded medical facilities, and employ rapid testing methods. Face masks are also required in many areas on certain sailings depending on vaccination status.
Martyn Griffiths from the Cruise Lines International Association (CLIA) told CNN Travel that cruise ships are "one of the safest vacation environments available today."
"It is testament to the effectiveness of our protocols that we have had over 550,000 passengers sailing so far without any major outbreak of Covid on board," he told the media outlet.
However, it's up to each cruise line to determine how and what rules they want to enforce and whether they will require passengers to show proof of vaccination or not.
A spokesperson for Carnival Corporation (which owns Carnival Cruise Line, AIDA, Costa Cruises, and Princess Cruises), told CNN Travel that Carnival as a company "have not made any decision at this point" regarding vaccination policy.
Carnival Cruise Line, which plans to resume sailings out of Florida by the end of summer, will require vaccinations at their relaunch. However, it's unclear if the vaccination mandate will change following a judge's ruling that cruises operating out of Florida don't have to require vaccinations, per Governor De Santis' executive order. The company's ships sailing out of Alaska, Greece, and the UK this summer will also require COVID vaccinations. However, Carnival's Costa and AIDA don't require vaccinations for their Europe sailings at this time.
On the other hand, Celebrity Cruises — which will not require all guests to get vaccinated — will, however, implement a surcharge for unvaccinated guests, make them wear masks, and potentially limit the amount of areas they can enter on the ship.
CNN Travel investigated other cruise lines' vaccination policies and found that MSC Cruises has not made vaccines mandatory on its current voyages, Disney Cruise Line's upcoming UK sailing on Disney Magic mandates all guests over 18 must be vaccinated, Norwegian Cruise Line, which has yet to recommence voyages, is planning an initial 100% vaccination policy, and Royal Caribbean requires all adult guests to be vaccinated, aside from those on board cruises departing from Florida ports — such as Celebrity Edge.
So is it the safest vacation? Maaaybe? The patchwork vaccination strategy among the cruise industry and the handful of publicized COVID-19 infections does give pause, so the answer is probably a big, Who Knows?
We would most likely be better served by exploring the world responsibly, safely, and maybe even cautiously as a tribute to those who have lost their lives to COVID.